Herzlichen Glückwunsch zum "60.", Jürgen Büssow!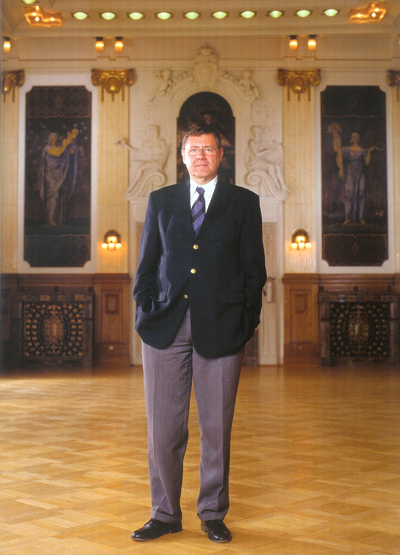 Feiert mit 450 Gästen: Jürgen Büssow
Foto: www.hsbuehler.com
Regierungspräsident Jürgen Büssow feiert heute seinen 60. Geburtstag. Nicht mit Freunden im kleinen Kreis, in einem Restaurant oder in einer Kneipe. Nein, er läßt es im Schlösschen der Bezirksregierung richtig krachen – mit 450 Gästen und "einem Kulturereignis der besonderen Art" (Presseinformation). Das Theater Bonn und die Philharmonie Essen haben ein Abendprogramm gestaltet, das auf der thematischen Grundlage von William Shakespeares Spiels um Liebe und Elfen, dem "Sommernachtstraum" aufbaut. Gäste aus Politik, Wirtschaft, Kultur und Verwaltung des Regierungsbezirks Düsseldorf erleben "einen thematischen Bogen von Shakespeares Sommernachtsstraum bis hin zu szenischen Passagen aus Werken von Rimbaud, Goethe, Heine und anderen", so die Pressemitteilung weiter. (Genügt eigentlich Shakespeare nicht?)  Die Musik dazu stammt von Mozart, Mungo Jerry ("In The Summertime") und Rockstar und Schauspieler Tom Waits ("One From The Heart"). 
Letztes Jahr, als Büssow an seinem Geburtstag noch die Frage plagte, ob er seinen Job behalten werde, hatte eine Variante von "Kiss me, Kate" von Mitgliedern des Aalto Musik-Theaters Essen sowie des Mülheimer Theaters an der Ruhr die Gäste hingerissen ein wenig gelangweilt. Der heutige Abend ist eine Benefizveranstaltung – zugunsten – Text aus der Pressemeldung – eines "gemeinnützigen Vereins, der mit seinem Restaurant ein niederschwelliges Angebot gemacht hat". Zu dessen Beiratsmitgliedern gehört – neben Ob Joachim Erwin und Bürgermeisterin Gudrun Hock und zahlreichen weiteren Düsseldorfern auch Jürgen Büssow.
Zu den Mitwirkenden des heutigen Abends gehören die Düsseldorfer Sopranistin Alexandra von der Weth von der Deutschen Oper am Rhein und Anna Virovlansky (Theater Bonn) sowie das Ensemble Alban Beikircher & Banda Stagione der Philharmonie Essen. Regie führt Klaus Weise. Da darf man gespannt sein.
Herzlichen Glückwunsch, Herr Büssow!