Golfer scharf auf's Goldene Schaf
September 13, 2006 by osi
Til Landwehrmann, Geschäftsführer des Golfclubs Elfrather Mühle (rechts) und Turnierleiter Gerhard Nowak legen mit der Schere noch einmal Hand an das Grün. Das "Siegerschaf" ist aufmerksamer Beobachter.
Neben dem üblichen Talk of the Town ist Golf ein Standard-Gesprächsthema für viele Teilnehmer des Society- und Medientreffs Düsseldorf IN. Es konnte nicht ausbleiben, dass die Golfer-Clique die Monatsveranstaltung Düsseldorf IN irgendwann mal in ihre Traumwelt ausweitet – raus aus den Böhler Werken, rauf auf den Golfplatz. So treffen sich denn die Netzwerker aus Düsseldorf am Freitag dieser Woche mit denen von Axel Pollheims zweitem SIGNA-Treff  "Reden mit Essen" zu einem Golf Special im Club Elfrather Mühle, Krefeld.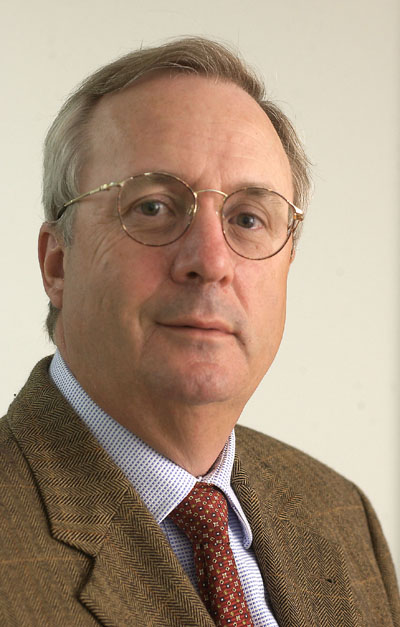 Expandiert mit In-Treff "Was gibt's Neuss" (ab 28.9.) über den Rhein: Axel Pollheim
Die 120 Teilnehmer spielen dabei um das "Goldene Schaf", das die Sieger der drei Klassen ebenso erhalten wie einen Gutschein für einen Freiflug mit der Air France zu einem europäischen Ziel. Nach einem Kanonenstart um 12 Uhr geht's los – mit den Favoriten Jürgen Overdiek (Kai 18) und Ex-Nationalspieler Gerd Zewe  (beide Handicap 5,0), mit weiteren Golfern mit Fortuna-Historie wie Marketingclub Düsseldorf-Präsident Dirk Krüssenberg (Ex-Fortuna-Torwart), Alt-Nationalspieler Mattes Mauritz, dem ehemaligen Schatzmeister Heinz Heßling und Marketing-Chef Carsten Franck. Am Start auch Patrick Baur (Marketing Schalke 04), Peter Kapfer (Schlösser-Brauerei), Ex-Schwimm-Weltmeister Christian Keller, Pelz-Künstler Percy Müller, Klaus Overbeck (Geschäftsführer Neuss Grevenbroicher-Zeitung), Roland Ross (General Manager Steigenberger Parkhotel), die Ex-Chefs von Sparkasse (Hans Schwarz), Isis (Horst Schäfers), Heitkamp (Josef Zantis), Josef Nagel (N.I.C.) und Frankenheim (Franz-Josef Zefferer). Ihre ersten Gehversuche mit dem kleinen Golfball machen Siemens-Chef Udo Hinsche, Achim Birken (National Director Jones Lang Lasalle), Tatjana Pioschyk (Chefredakeurin Radio Neandertal) sowie RheinFire-Manager Sammy Schmale, der es statt mit dem Ei mal mit dem Golfball versucht… Sie gehören zu den 60 Teilnehmern des Schnupperkurses. Nach "getaner Arbeit" erwarten alle Teilnehmer und Gäste als weiteres Highlight die gastronomischen Köstlichkeiten aus Küche und Keller der Elfrather Mühle.