Onkel Oberbilks Tipps für's Wochenende
Knüppel aus dem Sack und immer kräftig drauf!
4 Clubs – 5 Tage – 7 Parties
Fr. 22.12.06 // 23.00 H // 6 € // special Bierpreise // Hochschulradio 97.1 und 304 Radio präsentieren *The Radiobox "oldschool freaks go electro" // harpune
DJs: DJ Delfonic (OYE Records Berlin), Mr. Jay-Dee (Backslide Records / Discotronix), Starskie & Michael Amen (304radio.de)
 
Eine ungewöhnliche Kooperation findet am 22. Dezember statt: 3 Radiosender präsentieren zusammen eine Party – Hochschulradio Düsseldorf, 304radio.de und Hochschulradio Aachen laden ein zu "oldschool freaks go electro". Alle beteiligten Stationen legen Wert auf anspruchvollen Clubsound im Programm, so war es naheliegend auch mal zusammen zu arbeiten, und natürlich zu feiern! Musikalisch bekommt ihr Broken Electrofunk und Minimal-Techno zu hören.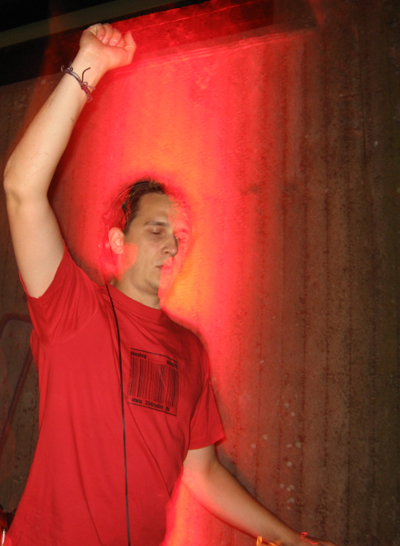 DJ Starskie während der 304-OpenAir 2006
Sa. 23.12.2006 // 23:00 //  10,- €, dafür auch Einlass im 3001 // Himmlische Hafennacht // harpune
DJs: harpune: Dominik Eulberg (Traum Schallplatten, Cocoon, Foto), Tobias Becker (Platzhirsch), Patrick Specke (Kahlwild) 3001: Syke & Sugarstarr, Cess, Tapesh, Stefan Hafner
 
Alle Jahre wieder gibt's mit der Himmlischen Hafennacht ein musikalisches Geschenk an die Düsseldorfer Szene. Dieses Jahr müssen die harpuneros wohl besonders brav gewesen sein, denn der Weihnachtsmann hat ihnen Dominik Eulberg beschert.
Selbstinszeniert mit Eule: Dominik Elenberg
Sa. 23.12.2006 // 22:00 //  10,- € // "Home Made" // home14
Djs: Plank, Stereoton, K.Lectra, Ingo Boss, Binh, Daniel Sampaa
Solides Line-Up. Da gibt's ordentlich was auf die Ohren – K.Lectra wird auch das Auge erfreuen.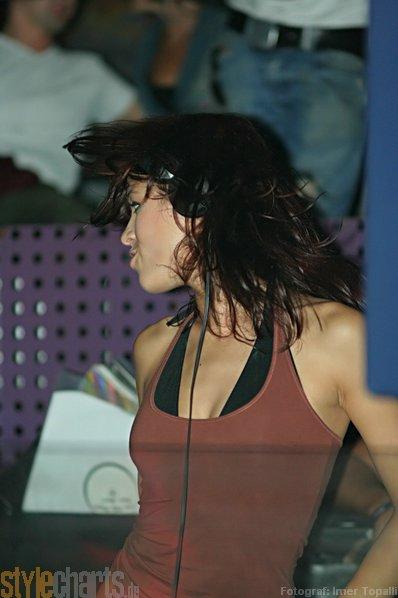 K.Lectra
So. 24.12.2006 // 22:00 //  11,- € // TRIBEHOUSE presents: Die Heilige Nacht mit Andry Nalin // Nero
Seit Jahren ist TRIBEHOUSE-Resident Andry Nalin der Zeremoniemeister der Heiligen Nacht in Düsseldorf. Besinnlichkeit wird an diesem Tag ganz groß geschrieben, aber spätestens wenn um 22 Uhr der Startschuss für die Nacht im Nero fällt, knallen die Korken. Die aufregendsten, wenn auch vom Style her völlig unterschiedlichen Locations der Landeshauptstadt wurden in den vergangenen Jahren zum Afterfamily-Club des Heiligabends: Checkers, Ratinger Hof, MK2, Harpune, Monkeys Club und im letzten Jahr das D-Sign. 2006 wird das Nero am Rathausufer stimmungsvoll in Szene gesetzt. Ich persönlich bin sehr gespannt, wie die Tribehouse-Bande mit dem doch ein wenig anders geartetem Nero-Publikum harmoniert, oder eben auch nicht. Auf jeden Fall eine schöne Tradition. Location: Nero, Rathausufer 8, 40213 Düsseldorf
Mo. 25.12.2006 // 23:00 // 5,- € // Local Freistil // harpune
DJs: DK Pimps 
Natürlich darf an den Weihnachtsfeiertagen auch ein Gastspiel der DK Pimps nicht fehlen. Man kann nur hoffen, dass ihre Gäste artig waren, denn wenn sich die Pimps entschließen, zum musikalischen Knecht Ruprecht zu werden, dann steht Einiges zu befürchten… von "Klassikern" wie David Hasselhoff, New Kids On The Block bis Yvonne Catterfeld reicht die Liste der musikalischen Schweinereien. Alles wild gemischt und mit einer guten Prise Wahnsinn präsentiert – wie immer nach der Devise "Es wird getanzt und nicht gemixt!". Oder war das Motto "Entertainment am Rande des Abgrunds"? Jeder möge selbst entscheiden.
Mo. 25.12.2006 // 22:00 // 12,- € // night and day club 4 elecrtronic music // home14
 
DJs: Chris Liebing, Sia Mac, Khaan, Marcus Wesen, Siland, Daniel Sampaa und Gastgeber Alexander Bongardt
Am ersten Weihnachtstag, wenn es überall besinnlich zugeht, wird's laut und deftig im Home14. Lange Rede kurzer Sinn, wer Chris Liebing kennt, der weiß, dass man ihn nicht vorstellen brauch. Alle Anderen sollten ihn schleunigst kennenlernen.
Di. 26.12.2006 // 16:00 //  12,- € // Tea Time // Tribehouse
Der Pflicht-Termin am 2. Weihnachts-Tag. Die Tea-Time ist anders als jede andere TRIBEHOUSE-Nacht. Der 26.12. ist das einzige Date im TRIBEHOUSE-Jahreskalender, an dem keine DJs announced werden. Neben Residents und befreundeten DJs des Hauses kann auch gerne mal ein weit angereister Künstler zu Gast sein. Aber selbst um ihn wird im Vorfeld kein Aufsehen erregt. Die Weihnachts-Tea-Time besticht durch andere Dinge. Im Vordergrund stehen Specials, die sich die Crew hat einfallen lassen. Die Tee-Tied, wie der Friese sagen würde, ist ein lohnenswerter Termin und in gewisser Weise ein Come-together vieler alter Bekannter. Tiefsinnige Gespräche gibt es weniger, dafür besinnliches Durchdrehen.
Euer Onkel Oberbilk