Onkel Oberbilks Tipps für's Wochenende
Fr. 09.02.2007 // 23.00 H // 7 € // harpune // Yum Yum
DJs: DJ Chrome & Tand Williams
 
Das Wetter wird besser, Studenten bereiten sich auf die Semesterferien vor und der vierte Yum Yum Abend ist im Anmarsch. Chrome & Tand Williams sind erneut bis in die Haarspitzen motiviert, um einen Abend der Extraklasse zu veranstalten. In garantiert karnevalsfreier Atmosphäre gibt es wieder die besten Eigengewächse in Sachen Tanzmusik, die jeden Freund genrefreier Musikabende erfeuen werden.
 
Sa. 10.02.2007 // 23:00 H // 7,- € // harpune // Famlientreffen meets Minimolix
DJs: Nicolas Stefan, Tobias Christoph, Herbert Boese
Live: Einmusik (Foto)
Beim heutigen Familientreffen stoßen die Minimolix-Macher Nicolas Stefan und Tobias Christoph auf harpune-Resident Herbert Boese. Als wenn das noch nicht reichen würde, wird ein Live-Act von "Einmusik" den Abend abrunden und den Club auf den Kopf stellen. Der aus Hamburg stammende Act bewegt sich irgendwo zwischen Minimal-Pop und Bombast-Techno und schreckt nicht vor einer ordentlichen Dosis Kitsch in seiner Musik zurück. In einer Zeit in der so ziemlich jeder auf den Minimal-Zug aufspringt, lautet das Motto von Einmusik "Neo-Rave!" Hier gibt's noch echte Musik mit Emotionen, Hooklines und gern auch mal einer gesunden Portion Kitsch.
Sa. 10.02.2007 // 22:00 H // 10,- € // home14 // night and day club for electronic music
DJs: Ripperton aka Lazy Fat People, Einzelkind, Khaan, Binh, Siland und Gastgeber Alexander Bongardt
 
Lazy Fat People sind die beiden DJs Ripperton und Mirko Loko. Mirko ist bereits seit seinem 17. Lebensjahr fest in der Musikszene verwurzelt. Er spielte bereits in zahlreichen namhaften internationalen Clubs und auf Events wie der Winter Music Conference in Miami. Raphaël Ripperton startete seine DJ-Karriere mit "Dj at work" gemeinsam Juiceppe. Von 2000 bis 2004 war er in diversen Clubs unterwegs und gründete sein House-Label Lovearth Records. Er fertigte einen Remix für Laurent Garnier's "Controlling the House" und veröffentlichte sein Projekt RAYON aka Ripperton auf Crosstown Rebel (London). 2006 erschien die erste EP "Big City and Dark Water" des Projekts Lazy Fat People auf James Holden's Border Community. Nachdem Einzelkind 10 Jahre lang als Drum n Bass DJ "Chopper" in sämtlichen Clubs Deutschlands spielte, packte ihn schließlich das House-Fieber. Als Einzelkind hielt er in verschiedenen Clubs Europas Einzug (Watergate Berlin, TWSTD Amsterdam oder Plastic Mailand), wo er den Gästen kickende Sets servierte.
Sa. 10.02.2007 // 22:00 H // 12,- € // tribehouse // Hells Kitchen
DJs: Miss Kittin (Foto), Miss Jools aka Sleeper Thief, Daniel Taylor, Loco Dice & Martin Buttrich Live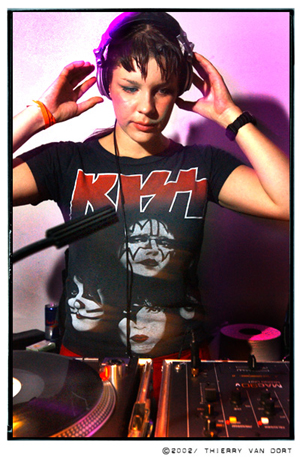 "Hells Kitchen" ist eine in unregelmäßigen Abständen stattfindende Veranstaltung, mit der innovative Akzente gesetzt werden. Passionierte Musikliebhaber kommen hier genauso auf ihre Kosten wie ausgehfreudige Nachtschwärmer und dies nicht zuletzt aufgrund des qualitativ hochwertigen Bookings. Zu Hells Kitchen trifft sich die Creme de la Creme der internationalen DJ-Liga. Zur ersten Hells Kitchen des Jahres am Samstag, den 10. Februar präsentieren Miss Kittin, Miss Jools aka Sleeper Thief und Daniel Taylor im Mainclub sowie Loco Dice und Martin Buttrich im Houseroom schräge Klänge, gebrochene Beats und farbenprächtige Melodien. Wer Miss Kitten und Loco im letzten Jahr an der Kiesgrube erlebt hat, weiß, dass es höllisch abgehen wird. Immer schön Tanzpausen machen und ein kühles Kaltgetränk einnehmen!
Euer Onkel Oberbilk