Onkel Oberbilks Tipps für's Wochenende!
Eigentlich gibt es an diesem Wochenende nur einen Pflichttermin in Düsseldorf:
 
"Ride the Monkey"-Initiator Armin präsentiert wieder die berüchtigte Freitags-Sause!
Fr. 23.3.07 // 23.00 H // 9 € // monkeys // Ride the Monkey mit den Jungs von 304-radio  
DJs: Michael Amen, Starskie und Dub Cee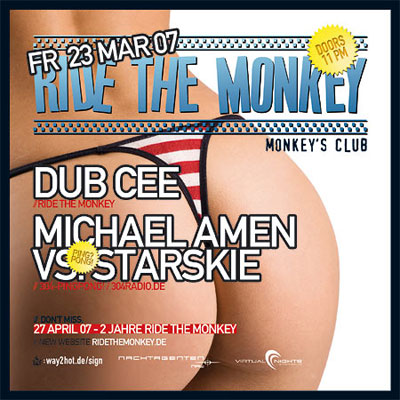 Diesen Freitag ist es endlich soweit. Der Termin dümpelt schon lange genug bei Myspace und den einschlägigen Internetseiten rum, nun wird er endlich mit Leben gefüllt. 304-Ping-Pong, und das nicht nur eine Stunde lang. Wir können uns auf ein treibendes Stelldichein freuen. Starskie und Micha Amen, die man durchaus als die "304-Macher" bezeichnen kann sind mittlerweile ein so eingespieltes Team, dass der Ping-Pong auch zum Ying-Yang ausarten könnte. Bei ihrem letzten Set in der harpune haben sie derartig gut aufgelegt, dass die "Warmup-Heißmacher" dem Main-Act gnadenlos die Schau gestohlen haben. Also Kö, mach dich auf was gefasst. Heimvorteil "at it's best". Also liebe Liebhaber guter elektronischer Musik. Packt die Tanzklamotten ein und schwingt auch auf den nächsten Affen! Und wie sagte bereits Amin vor langer, langer Zeit "Denn wer nicht sündiget, der kommet auch nicht ins Monkeys…"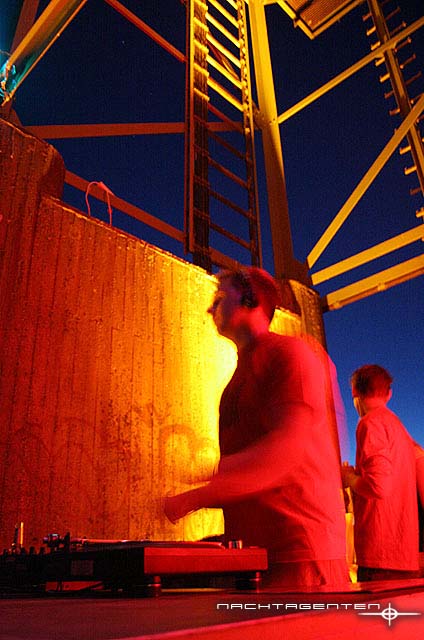 304-Ping-Pong mit Starskie und Amen
Sa. 24.3.07 // 23.00 H // 10 € // harpune // Systematic Vs Jaktronik
DJs: Marc Romboy (Systematic, Foto), Herbert Boese (Jaktronik), Jürgen Von Krebs, Michael Paul
Heute treffen Jaktronik, das Label von harpunero Herbert Boese, und Marc Romboys "Systematic" aufeinander. Das Jaktronik-Motto "Oldskool-spirit in a newskool fashion" bringt es auf den Punkt: die harpuneros erwarte eine Nacht mit muskalischen Zitaten aus Chicago-House, Electro und Acid. Klassische Zutaten also, welche – geschmackvoll und frisch zubereitet – die Tanzfläche in einen brodelnden Hexenkessel verwandeln werden! Jürgen Von Krebs, der am Mittwoch beim 304-Livestream zu hören war, und Michael Paul runden den Abend ab.
Euer Onkel Oberbilk