Bambi Bag: Burda-Reh zeigt sein soziales Gesicht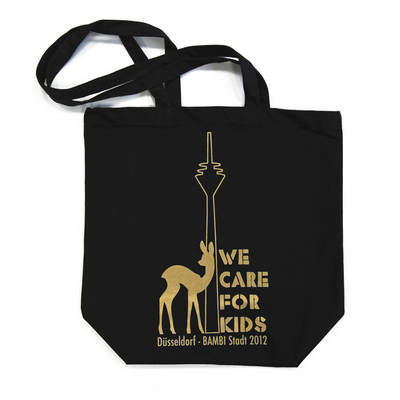 BAMBI steht nicht nur für strahlenden Glamour und Promigeflüster, sondern ebenso für gesellschaftliche Verantwortung. Das zeigt sich auch daran, dass seit einigen Jahren neben Stars auch engagierte Bürger und ehrenamtliche Initiativen als "Stille Helden" ausgezeichnet werden. Die Stiftung 'Tribute to BAMBI' unterstützt außerdem in jedem Jahr einige ausgewählte Einrichtungen mit Spendengeldern von ihren Veranstaltungen.
In diesem Jahr gehört auch das Kinderhospiz Regenbogenland e.V.
in Düsseldorf zu den Begünstigten der Charity Gala, die am 18. Oktober 2012 in Berlin stattfand.
Auf Initiative der Landeshauptstadt hat die Düsseldorf Marketing &
Tourismus GmbH (DMT) gemeinsam mit dem Düsseldorfer Designer
René Küpper, Inhaber von 'Hausfreund', anlässlich der BAMBI Verleihung 2012 ein besonderes Souvenir produziert, das ab sofort zu Gunsten von 'Tribute to BAMBI' verkauft wird. Der Designer hat sich ehrenamtlich für diese Aktion eingesetzt und die Gestaltung einer stylishen Jutetasche übernommen. Der Reinerlös wird an die 'Tribute to BAMBI' Stiftung gespendet.
Astrid Elbers, Schirmherrin des Kinderhospiz' Regenbogenland, stellte am Mittwoch, 7. November, gemeinsam mit Dr. Eva-Maria Illigen-Günther, Geschäftsführerin von DMT, und dem 'Hausfreund' René Küpper die hochwertige Jutetasche vor, die ab sofort zum Preis von 10 Euro in den Tourist Informationen und dem Online-Shop der DMT sowie im Geschäft 'Hausfreund', Ackerstraße 155, erhältlich ist.
"Initiativen wie 'Tribute to BAMBI' sind wichtig, um die Arbeit gemeinnütziger Einrichtungen ins Blickfeld zu rücken und sie zu fördern. Auch das Regenbogenland ist auf Unterstützung und Spenden angewiesen.
Viele Menschen engagieren sich ehrenamtlich für das Kinderhospiz, um den unheilbar kranken Kindern ein erfülltes Leben zu ermöglichen und ihre Familien zu entlasten", so Astrid Elbers.
Die DMT legt mit der Jute-Tasche zum zweiten Mal ein 'Tribute to BAMBI' Souvenir auf. Im Jahr 2007 wurde der Erlös aus dem erfolgreichen Verkauf einer Schneekugel zugunsten der Stiftung gespendet. "Die Jutetasche ist mit ihrem Bezug zur BAMBI Verleihung ein absoluter Hingucker beim Shoppen und weist ihren Träger als hilfsbereiten Menschen
aus. Das modische Düsseldorf-Souvenir ist in einer limitierten Auflage verfügbar und wird bei unseren Kunden sicherlich sehr gut ankommen. Wir freuen uns, dass wir damit erneut die Arbeit der 'Tribute to BAMBI' Stiftung unterstützen können", sagte Dr. Eva-Maria Illigen-Günther.
Die BAMBI Re(h)porter Kathrin Stark und Steffen Fischer unterzogen die Tasche bei dieser Gelegenheit einem sofortigen Praxistest. Ihr Fazit: "Jutetaschen sind ein absoluter Trend. Die edle Kombination aus Schwarz und Gold passt gut zu BAMBI, und das Hausfreund-Design macht sie zu einem stylishen Accessoire. Mit den langen Henkeln ist sie
zudem ein perfekter Shopping-Begleiter. Für uns auf jeden Fall ein Must-have für die modische Winter-Saison."
Die 'Tribute to BAMBI' Jutetasche ist produziert aus hochwertigem, schwarzem Canvas mit goldfarbener Bedruckung, Bodenfalte und extralangen Henkeln (ca. 90 cm). Maße ca. 38 x 42 x 14 cm. Erhältlich sind die Taschen an folgenden Verkaufsstellen: • Tourist-Information, Altstadt Marktstraße/Ecke Rheinstraße • Tourist-Information, Am  Hauptbahnhof, Immermannstraße 65 b • Webshop der DMT • Hausfreund, Ackerstraße 155.