GDS feiert Schuhe beim "Out of the Box"- Festival am 1. August – "After Shoe Party" inklusive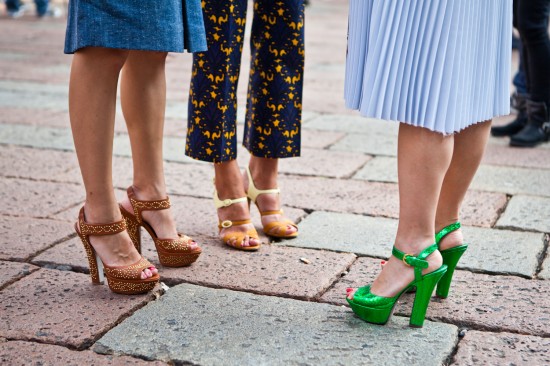 Zeigt her eure Schuhe… Foto: Sandra Semburg / www.aloveisblind.de
Zeige mir deine Schuhe – und ich sage dir, wer du bist: Dass das Thema Schuhe sich nicht erst seit "Sex & The City" größter Beliebtheit erfreut, ist unumstritten. Erstmalig transportiert die GDS, die Leitmesse für Schuhe & Accessoires, am Freitag, dem 1. August 2014 die Vielfalt und die bunte, überraschende Welt der Schuhe und Accessoires in die Düsseldorfer Innenstadt – und feiert gemeinsam mit Düsseldorfern und internationalen GDS-Messegästen das OUT OF THE BOX Festival.
Ob barfuß oder Lackschuh, Sneaker oder Highheel: OUT OF THE BOX möchte ein möglichst breites Spektrum abbilden – und lädt sein Publikum ein, gemeinsam mit
Einzelhandel, Shopping-Malls, Gastronomen und Kulturpartnern das große Festival für Schuhe & Accessoires in Düsseldorf zu zelebrieren. Am 1. August 2014 von 15-22h dürfen sich Modeinteressierte und Schuhliebhaber auf Specials, Events und Entertainment in Düsseldorfer Geschäften und in den Straßen der Stadt freuen. Ausstellungen und Vorträge, Customizing-Aktionen und Workshops, Events in Galerien, Bars und O!site-Locations sind nur einige Beispiele des geplanten Rahmenprogramms.
Im gesamten Stadtbild spielt das Thema mit Installationen und Attraktionen eine zentrale Rolle. Straßenkünstler und Musiker sorgen für den Entertainment-Faktor & Aha-E!ekte. In eigens aufgestellten Schuhcontainern haben die Düsseldorfer die Möglichkeit, ihre getragenen Schuhe zugunsten eines gemeinnützigen Zweckes spenden. Bei abschließenden After Shoe Parties in den angesagten Clubs der Stadt wird bis in die frühen Morgenstunden gefeiert.
Der Einzelhandel und Anbieter aus dem Schuh & Accessoires Segment stehen an diesem besonderen Tag im Rampenlicht. OUT OF THE BOX möchte eine Plattform für einen
außergewöhnlichen, sympathischen und kreativen Tag scha!en, an dem sich Händler und Marken über das Thema "Schuhe & Accessoires" mit emotionalen Aktionen präsentieren
und bei ihren Zielgruppen positionieren können. Neben einer langfristigen Standort-Stärkung zielt OUT OF THE BOX ausserdem darauf ab, dem Handel im doch eher ruhigen
Sommer Zusatzumsätze zu bescheren.
OUT OF THE BOX wird bereits im Vorfeld von einer umfangreichen PR- und Werbekampagne, sowie diversen Medienkooperationen begleitet. Der GDS-Medienpartner
styleranking.de beispielsweise lädt nationale und internationale Modeblogger dazu ein, Schaufenster von Partnerstores in der Düsseldorfer City zu gestalten. Die unabhängige
Festival-Seite vereint auf www.outofthebox-duesseldorf.de.
Gemeinsam mit der GDS ist die Messe Düsseldorf der Initiator des OUT OF THE BOX Festivals. Die Messe Düsseldorf transportiert bereits seit Jahren erfolgreich mit "ProWein
goes City" und "drupacity" Konsumenten-Veranstaltungen von der Messe in die Stadt. Anlässlich des neuen GDS Messekonzeptes und -termines vom 30. Juli bis 1. August 2014,
der zeitlich näher an die CPD in Düsseldorf heranrückt, soll das Festival für Schuhe & Accessoires unter der Dachmarke OUT OF THE BOX auch in 2015 parallel zu den GDSAusgaben fortgeführt und ausgebaut werden.