Darmkrebsvorsorge: ScheBo Biotech AG mit Früherkennungstest beim Infotag des VKKD Samstag in den Schadow-Arkaden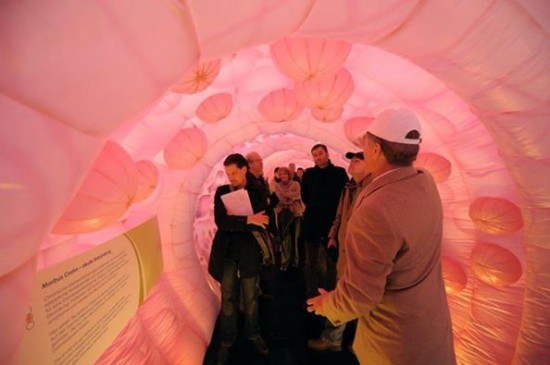 Mit diesem begehbaren Darmmodell informiert Darmkrebstest-Hersteller ScheBO AG seit Jahren über das Krebsrisiko.
Rund 27.000 Menschen sterben jährlich in Deutschland an Darmkrebs, während 60.000 Menschen neu erkranken. Dabei ist dieser Krebs bestens zu behandeln, wenn er früh erkannt  wird. Deshalb ist Darmkrebs-Vorsorge wichtig. Die ScheBo AG, Hersteller des Darmkrebs-Tests M2 PK, informiert am Samstag, dem 21. März, bei einer Veranstaltung der katholischen Kliniken Düsseldorfs (VKKD) in den Schadow-Arkaden über Stuhltests zur Darmkrebsvorsorge.
Schirmherrin der Veranstaltung ist Hille Erwin, Witwe des verstorbenen Oberbürgermeisters Joachim Erwin. Der hatte bereits 2004 für eine Aufklärungsaktion von ScheBo in Düsseldorf die Schirmherrschaft übernommen. Im Rahmen dieser Aktion hatte er seine Erkrankung an Darmkrebs öffentlich gemacht.
Darmkrebs ist geschlechtsübergreifend die tödlichste Krebsart. Doch bei der Vorsorge wird geschlampt. Das Risiko wird verdrängt, teils aus Angst, teils aus Scham.
Als sogenannter Goldstandard der Vorsorge gilt die Koloskopie (Darmspiegelung). Ein weiterer bedeutender Beitrag zur Früherkennung ist der M2- PK-Test, ein hoch sensitiver Enzymtest. Wissenschaftler des koreanischen College of Medicine in Seoul haben dem Test gerade in einer Studie eine außerordentliche Genauigkeit bestätigt. Die Erkennungsrate des M2-PK Tests für Darmkrebs lag bei 92,8% und die für Polypen bei 69,4%. Ferner verglichen sie die Ergebnisse des M2-PK-Tests mit denen eines immunologischen Blut-im-Stuhl-Tests, einem sogenannten iFOB. Dieser war dem M2-PK-Test deutlich unterlegen. Der iFOB konnte lediglich 47,5% der Darmkrebsfälle und gerade einmal 12,1% der Polypen identifizieren.
Das Ergebnis der Studie wurde im renommierten Journal "Gut and Liver" veröffentlicht. Die deutsche Ärzte Zeitung schrieb: "M2-PK-Test punktet bei Früherkennung". Der M2-PK-Test ist unabhängig von "Blut-im-Stuhl" und kann deshalb auch Polypen und nicht blutenden Darmkrebs erkennen.
Seit neuestem gibt es auch einen 2 in 1-Kombitest, der parallel sowohl das Schlüsselenzym M2-PK als auch immunologisch "Blut-im-Stuhl" (iFOB) bestimmt.
Der Darmkrebs-Präventionstag in den Schadow Arkaden am Samstag, dem 21. März, beginnt um 10:00 Uhr mit den Info-Ständen in der Passage. Offiziell eröffnet wird der Aktionstag um 11:00 Uhr im 1. Obergeschoss durch Schirmherrin Hille Erwin und Prof. Dr. med. Andreas Meyer-Falcke, Beigeordneter für Gesundheit der Landeshauptstadt Düsseldorf. Ärzte der VKKD-Krankenhäuser sind durchgehend vor Ort und informieren. Der Eintritt ist frei.