INTAKO 2015: Tanzfans aus aller Welt zum sechsten Mal in Düsseldorf – Größter Tanzlehrerkongress im Konferenzhotel Maritim am Airport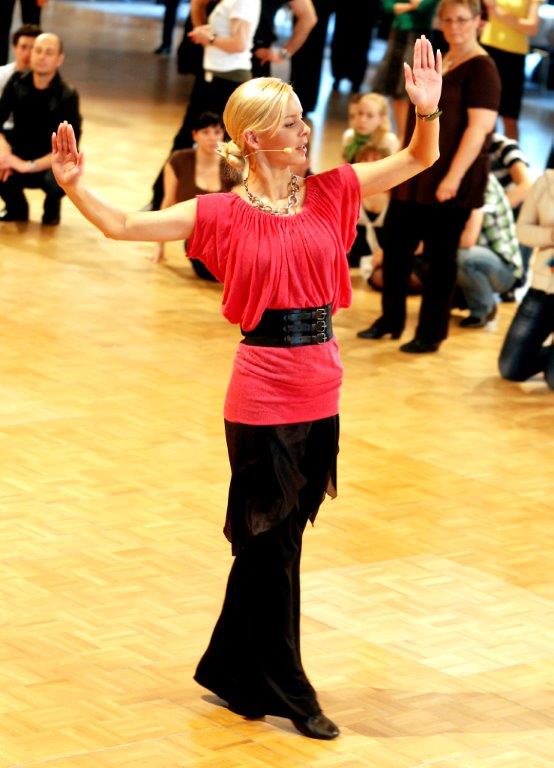 Tanzkurse für Tanzfans im Maritim: "Let's Dance"-Star Isabel Edvardsson – Foto: Karl-Werner Wiemers
Ab morgen, Freitag, ist Düsseldorf wieder Tanzhauptstadt: Der mit mehr als 3000 Tanzlehrern und Tanzbegeisterten aus vielen Ländern weltgrößte Tanzlehrerkongress INTAKO wird zwar erst am Montag schwungvoll eröffnet, doch bereits ab morgen haben zahlende Tanzfans die Gelegenheit, mit "Let's Dance"-Star Isabel Edvardsson, mit Michael Hull und weiteren populären Tanzgrößen über das Parkett im Hotel Maritim zu schweben – beim INTAKO-Tanzfestival.
Der Allgemeine Deutsche Tanzlehrerverband (ADTV) setzt hier in Düsseldorf die Trends, choreographiert neue Musik und präsentiert den Tanz des Jahres – in diesem Jahr ist es der Swing. Was beim INTAKO vermittelt wird, gibt künftig tänzerisch den Ton an – in den rund 800 ADTV-Tanzschulen Deutschlands, in Discotheken und in den elektronischen Medien.
Freunde des Tanzes, die sich zum öffentlichen Teil des INTAKO (Freitag bis Sonntag) angemeldet haben, können schon am Samstagmorgen zwischen drei parallel laufenden Angeboten wählen: "Schwungvolles Tanzen" mit Isabel Edvardsson, Samba-Variationen ohne Voltas (Michael Hull) und "Rumba – mal anders" mit Bernd und Evelyn Hörmann.
Das exklusive Training mit Spitzenfachleuten der Tanzszene und fernsehbekannten Top-Trainerinnen und -Trainern nehmen Tanzbegeisterte gerne wahr, um ihr tänzerisches Können aufzupolieren.
Beim INTAKO stellt Markus Schöffl, Trendscout des ADTV, den neuen Sommerhit und –Tanz "Color Gitano" von Frankreichs Megastar Kendji Girac vor, zu dem er die offizielle Choreographie erarbeitet hat.
Auch ein BONEY M. Revival steht an: Produzent Frank Farian und Liz Mitchell haben gemeinsam Neues produziert, vorgestellt wird's im Tagungshotel Maritim am Flughafen.
Zum Tanz des Jahres, dem Swing, präsentiert Markus Schöffl in Düsseldorf zwei großartige Swing Acts live: Vintage Vegas (neuer Style: "SWOP = Swing meets Pop") und  Tom Gaebel ("Disco Swing").  Beide Acts treten am Dienstag in Düsseldorf auf und präsentieren zum Tanz des Jahres einen Swingblock auf dem Gesellschaftsabend. Der ADTV ehrt Vintage Vegas und Tom Gaebel mit dem ADTV-Music-Award "Best Swing Act of the Year".
Tanzen ist gesund, das wird im Grußwort der Parlamentarischen Staatssekretärin im Bundesgesundheitsministerium, Ingrid Fischbach, deutlich, außerdem im Vortrag von Prof. Gunter Kreutz zum Thema "Tango statt Tabletten".
Um bereits Kinder für das Tanzen zu begeistern, lädt der ADTV am Samstag, um elf Uhr, zu einer Tanzstunde für 4-8-Jährige ins Hotel InterContinental an der Kö. DieTeilnahme ist kostenlos (Anmeldung: info@osicom.de).
Hinweis: Im Hotel Maritim können Kurzentschlossene sich noch für das Tanzfestival von Freitag bis Sonntag anmelden, die Teilnahme kostet 189 Euro.