OUT OF THE BOX – High Heel Run und Modenschauen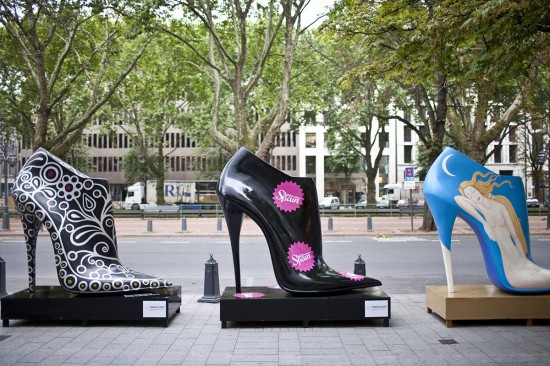 So machte Out Of The Box im letzten Jahr auf sich aufmerksam – Foto: Messe Düsseldorf
Am Freitag, dem 31. Juli 2015, heißt es wieder: Hereinspaziert in die faszinierende und bunte Welt der Schuhe und Accessoires! Am letzten Tag der GDS Schuhmesse zelebrieren Messe, Handel, Marken, Hersteller, Shoppingverrückte und "Shoenistas"  zum zweiten Mal in Folge das OUT OF THE BOX Festival für Schuhe & Accessoires. Neu in diesem Jahr: der große Deichmann High-Heel-Run auf dem Graf-Adolfplatz, Modenschauen und Foodtrucks auf dem Schadowplatz und Riesenschuhe in der ganzen Stadt.
Plus: Bei der großen Shoenista-Rubbellos-Aktion winken Shopping-Gutscheine viele weitere tolle Preise.
Bei der erfolgreichen Erstausgabe im Sommer 2015 waren die Top-Händler aus allen Segmenten dabei – angefangen bei den großen Häusern Kaufhof oder Breuninger über den klassischen Schuhhandel bis hin zu Concept-Stores wie "Kauf dich glücklich". Am 31. Juli findet nun zum zweiten Mal das von der GDS Global Destination for Shoes & Accessories und des Messe Düsseldorf initiierte OUT OF THE BOX – Festival für Schuhe & Accessoires in der Düsseldorfer Innenstadt statt.
Kirstin Deutelmoser, Messechefin der GDS: "Die GDS ist eine reine Fachmesse. Für den Endkonsumenten hat die Messe zu diesem Zeitpunkt der Saison noch keinen Mehrwert. Um ihn aber trotzdem mit in das Geschehen einzubinden haben wir OUT OF THE BOX ins Leben gerufen. Wir sind der Meinung, über Schuhe und Accessoires muss gesprochen werden! Um das Thema Schuhe und Accessoires erleben zu können, gibt es für den Konsumenten vielerlei Unterhaltung und Sonderaktionen in der Düsseldorfer Innenstadt, so dass auch er aktiv am Geschehen teilnehmen kann."
Das komplette Programm der Händler wird im Mai 2015 veröffentlicht. Kreative SchaufensterDekorationen zum Thema Schuhe & Accessoires runden das Festival-Gesamtbild ab. Bei der großen After-Shoe-Party im Ufer 8 wird zum Abschluss getanzt bis in die Morgenstunden.