Der Aufbau beginnt am 15. Oktober: Das Riesenrad kommt wieder zum Burgplatz
September 23, 2015 by osi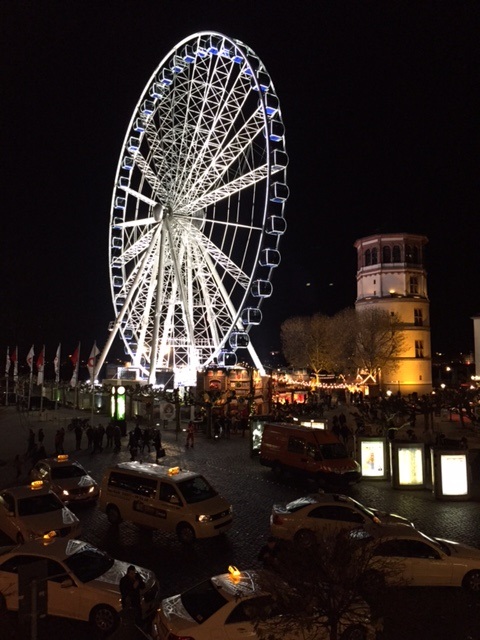 Eindrucksvoll strahlend – ein Highlight im Winter: Oscar Bruchs "Wheel of Vision" auf dem Burgplatz. Foto: Lust auf Düsseldorf
Nach einem dreimonatigen Sommergastspiel in Danzig wird das "Wheel of Vision" jetzt wieder für das Heimspiel in Düsseldorf präpariert. Am 15. Oktober beginnt auf dem Burgplatz, zwischen Schlossturm und Rathaus, der Aufbau des 55 Meter hohen Aussichtsrads, ab Freitag,  dem 23. Oktober, dreht es sich wieder für die Düsseldorfer und die Besucher der Stadt.
Es ist bereits die vierte Drehzeit des Rads in der Landeshauptstadt. Betreiber Oscar Bruch jr.: "Mittlerweile ist das Wheel of Vision in der Herbst-Winterzeit ein prägendes Element der Düsseldorfer Stadtsilhouette am Rheinufer geworden – und darüber hinaus  Besuchermagnet und Touristenattraktion."
Das Gastspiel in Düsseldorf dauert wieder knapp drei Monate und endet am 10. Januar. Während der gesamten Laufzeit stehen am Fuß des Riesenrads ein Ausschank und ein Imbiss; zur Zeit der Düsseldorfer Weihnachtsmärkte gibt es am Wheel of Vision erneut das kleine Weihnachtsdorf mit ausgesuchten Leckereien.