Kö-Bogen feiert 2. Geburtstag – Shopping bis 22 Uhr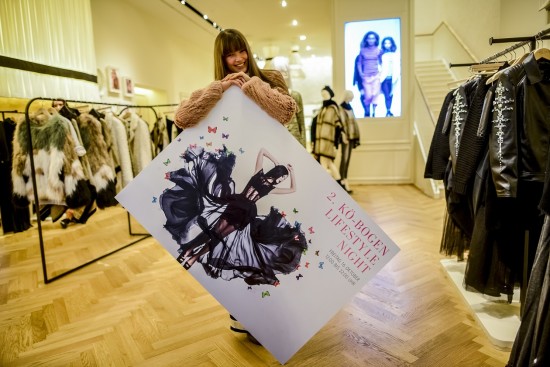 Mode, Musik, Neuheiten und gute Gespräche – zum Geburtstag ist der Kö-Bogen bis 22 Uhr geöffnet. Foto: Andreas Bretz
Der Kö-Bogen wird im Oktober 2015 zwei Jahre alt. Anlässlich dieses Jubiläums findet – wie bereits im letzten Jahr – eine große Shoppingparty statt. Unter dem Motto "A celebration of fashion, style and inspirations" sind am 16. Oktober 2015 sämtliche Geschäfte im Kö-Bogen bis 22.00 Uhr geöffnet. Die mittlerweile zweite lange Lifestyle-Nacht verspricht eine Vielzahl exklusiver Highlights, limitierter Editionen und Überraschungen.
"Das gesamte Konzept spricht für die Innovation des Mode- und Wirtschaftsstandorts Düsseldorf und für den Kö-Bogen als modernes Wahrzeichen der Stadt. Wir freuen uns zum ersten Mal bei der Kö-Bogen Lifestyle Night dabei zu sein, da wir zur Premiere noch kein Mieter im Kö-Bogen waren", freut sich Dagny Kaske, Country Retail Manager Germany von "Twin Set", auf die lange Shoppingparty. "Düsseldorf ist neben seinen exklusiven Fashion-Stores besonders für innovative Beauty- und Makeup-Trends berühmt. Aus diesem Grund ist die zweite Shopping Night am Kö-Bogen der perfekte Rahmen für die Premiere der Maybelline New York Styling-Lounge", so Melissa Meier, Brand Communication & Corporate Event Manger Maybelline New York.
Inhalte der 2. Kö-Bogen Lifestyle Night
Maybelline, Apple, Breuninger, Graf von Faber-Castell, Hallhuber, Twin-Set, Laurèl, Palio Poccino, Porsche Design, DJ AXLNT und Unique nehmen an der zweiten Kö-Bogen Lifestyle Night teil.
Maybelline: Erstmals bietet Maybelline New York seinen Kunden eine exklusive Make-Up Beratung sowie ein kostenloses Party Make-up in der Maybelline Styling Lounge an. Die Styling Lounge ist zwischen den beiden Gebäudekomplexen zu finden. Sie ist von 17.00 bis 22.00 Uhr geöffnet.
Apple: längere Öffnungszeiten bis 22.00 Uhr
Breuninger: Diverse Sonderaktionen auf den Flächen, ein DJ und eine einzigartige Torte zum 2. Kö-Bogen Geburtstag aus der Breuninger Confiserie.
Graf von Faber-Castell: Die bekannte Illustratorin Kera Till gestaltet Graf von Faber-Castell Leinenbücher individuell für die Kunden vor Ort. Der Erwerb dieser Unikate dient dem guten Zweck: Pro verkauftem Leinenbuch (Preis 49,95 €) gehen 25,00 € an die Christoph Metzelder Stiftung für ein Kinder- und Jugendlichen-Projekt in Düsseldorf.
Hallhuber: Ein Überraschungs-Angebot auf der Fläche sowie verlängerte Öffnungszeiten bis 22 Uhr.
Twin-Set: Bei Twin-Set sorgen ein besonderer Apéritivo sowie Musik für eine ausgelassene Shopping-Atmosphäre.
Laurèl: Neben einem Begrüßungs-Champagner erwartet die Kundinnen bei Laurèl die Verlosung eines begehrten It-Items: eine der beliebten Handtaschen. Die Gewinnerin wird noch am selben Abend ausgelost. Außerdem werden Goodie-Bags mit Shopping-Gutscheinen (je 25,00 €) für die aktuelle Herbst/Winter Kollektion 2015 verteilt.
Palio Poccino: Zum Zweijährigen begeistert der italienische Sänger Riccardo Doppio mit seiner Live Musik im Palio Poccino. Dazu können die Gäste italienische Spezialitäten und Weine genießen.
Porsche Design: Porsche Design präsentiert seinen Kunden die neue Chronotimer Collection.
DJ AXLNT: Anlässlich der langen Lifestyle Night sorgt DJ AXLNT von 17.00 bis 22.00 Uhr für exklusiven Clubbing Sound.
Unique: Unter dem Motto "Special New York Nights" haben die Kunden bei Unique die Möglichkeit, sich ganz im New York-Style vor passender Fotokulisse fotografieren zu lassen. Zu den besten Songs aus der Stadt die niemals schläft werden typische New York-Drinks serviert.
Alle Informationen zum Nachlesen unter: www.koebogen.info/de/