Wheel of Vision lädt zum Dinner in the Sky – Kooperation mit dem Goldenen Ring am Burgplatz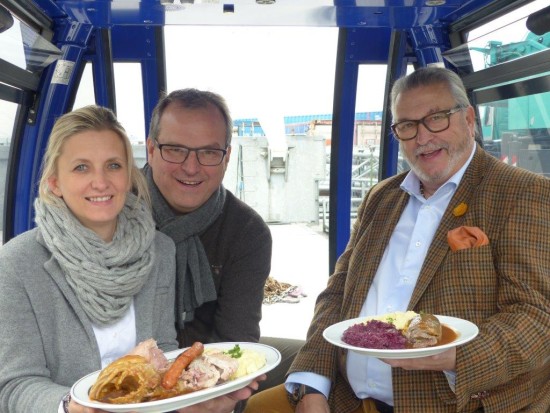 Freuen sich auf die Zusammenarbeit: Ariane und Oscar Bruch und PM Halcour – Foto: Susan Tuchel
Nachdem sich der "Brunch in the Sky" zum Publikumsliebling entwickelt hat, bietet jetzt das Wheel of Vision in seiner vierten Düsseldorfer Saison zusätzlich das "Dinner in the Sky" an. Bei Vorbestellung können Riesenradfahrer unter vier warmen Gerichten wählen, die in den Gondeln serviert werden. 
Das Küchen-Team des Traditionsrestaurants Goldener Ring, vor dessen Haustür sich das Wheel of Vision ab dem 23. Oktober dreht, hat die Auswahl der bodenständigen Speisen zusammengestellt. Sie werden, stets frisch zubereitet, quasi "über die Straße" direkt zum Riesenrad geliefert werden. Zum Angebot gehören:
Rinderroulade "wie bei Muttern"
Schlachtplatte "Goldener Ring"
Hausgemachter Erbseneintopf
und für Vegetarier die Hausgemachte Gemüsequiche.
Das Dinner in the Sky muss 5 Werktage vorher bestellt werden; das Angebot gilt für vier Personen, die ihre Gerichte individuell auswählen können. Pro Person kostet die einstündige (!) Fahrt auf dem Wheel of Vision 39 Euro (Erbseneintopf oder Gemüsequiche) bzw. 49 Euro (Schlachtplatte oder Rinderroulade). Riesenrad-Betreiber Oscar Bruch jr.: "Während der letzten drei Gastspiele waren die kulinarischen Angebote immer heiß begehrt. Zur Erweiterung haben wir uns aufgrund zahlreicher Kundenanfragen entschlossen. Mit dem Goldenen Ring haben wir den passenden Partner vor Ort gefunden."
PM Halcour, Chef im Goldenen Ring, freut sich auf die Zusammenarbeit: "Das ist einerseits eine spannende Aufgabe und eine große Herausforderung, an einem ungewöhnlichen Ort zuverlässig heiße Speisen zu servieren – so etwas hatten wir noch nicht. Andererseits ist es ein attraktives Angebot für alle, die gern mit Freunden zusammen ein leckeres Essen und die ausgiebige Fahrt mit dem Riesenrad mit dem Blick über die Stadt genießen wollen."
Für den fast schon traditionellen "Brunch in the Sky" (in Zusammenarbeit mit dem "Schwan" am Burgplatz) liegen bereits zahlreiche Vorbestellungen vor. Vier Personen können ein ausgiebiges Frühstück bei einer Stunde Fahrzeit genießen (39 Euro pro Person). Bis zu sechs Personen können sich die "Kaffeeklatschgondel" gönnen, die gern auch für himmlische Geburtstagsfeiern gebucht werden: Süße Häppchen und Kaffee sind die Begleiter der einstündigen Fahrt (129 Euro pro Gondel).
Alle kulinarischen Angebote müssen fünf Werktage Tage im Voraus gebucht werden.
Hotline: 0211 – 50 66 88 67.
Die VIP-Gondel, mit vier komfortablen Ledersitzen ausgestattet, kann für eine Doppelrunde (30 Minuten) zum Festpreis von 69 Euro gebucht werden. Wahlweise auch mit einer Flasche Prosecco oder Champagner als Begleitung. Achtung: Hochzeitsantrag-verdächtig! Ausschank und ein Imbissstand vor dem Wheel of Vision können während der gesamten Laufzeit des Riesenrads (bis zum 10. Januar 2016) genutzt werden können.