"1. Night of Creativity Düsseldorf" – 1000 Gäste, viele Löwen und noch mehr Einblicke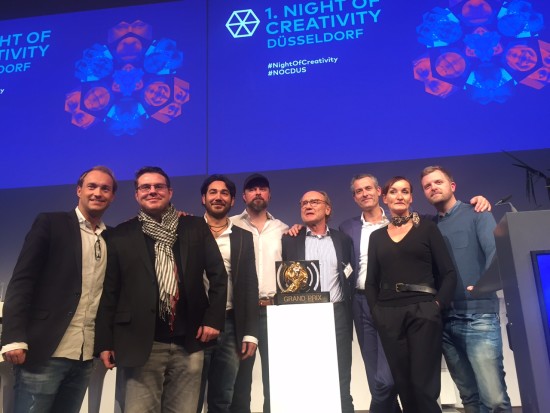 Von links: Christoph Pietsch (GREY), Stephan Moritz (MOKOH Music), Kenny Blumenstein (Ogilvy & Mather), Fabian Kirner (GREY), Dirk Krüssenberg (Marketing Club), Michael Becker (Tonhalle Düsseldorf), Katja Garff (Weischer.Media), Dennis May (DDB)
Echtes Gänsehaut Feeling im Congress Centrum Düsseldorf! Das Who-Is-Who der Düsseldorfer Kreativszene feierte sich selbst und kreative Spitzenleistungen. Und im Rampenlicht: Der Marketing Club Düsseldorf. Der hat es wieder einmal geschafft mit seinem starken Netzwerk eine Veranstaltung der Superlative auf die Beine zu stellen.
Die "1. Night of Creativity Düsseldorf" – ein großer Erfolg. Rund 1000 Gäste strömten gestern ins CCD Süd und erlebten einen spannenden Abend rund um  die Cannes-Löwen. "Mit diesem Format haben wir eine Plattform geschaffen, die nicht nur dem Marketing-Club Düsseldorf gut tut sondern auch der Stadt", urteilt Marketing Club-Präsident Dirk Krüssenberg.
"Die Kreativität ist Treiber der wirtschaftlichen Entwicklung", sagte OB Thomas Geisel in einem Grußwort, das per Video eingespielt wurde und in dem er sich vor der kreativen Community der Stadt verneigte. Der OB, soeben aus Japan zurückgekehrt: "Auch dort kennt man die Marken und die Verpackungen made in Düsseldorf".
Kreativität auch in der Kunst: Tonhallen-Intendant Michael Becker skizzierte den Paradigmenwechsel der Verlagerung der Programmherrschaft zum Publikum. Becker: "Wir müssen zulassen, dass wir nicht uneingeschränkter Herr des Geschehens sind." Der Chef der Tonhalle hat eine Reihe innovativer Formate entwickelt, andere umbenannt, Zielgruppen identifiziert. Als markantes Beispiel nannte er die Musik für Schwangere unter dem Namen "Ultraschall".
Katja Garff (Weischer.Media), seit 14 Jahren Cannes-Insiderin, gab spannende Einblicke in "das größte Festival der Kommunikation", bei dem heute Targeting, Tracking und "Sticking to the brand" zentrale Themen sind und Preise in 21 Kategorien vergeben werden. Ausgezeichnete Beiträge wurden von den 1000 Gästen mit Beifall bedacht, insbesondere "Always" und das "Corridor-Targeting" von Skype mit Germanwings wurden besonders stark beklatscht. Dabei identifiziert Skype die Standorte der Gesprächsteilnehmer und bietet günstige Flüge zwischen den beiden Orten an. Mediacom Düsseldorf punktete mit ganz speziellem Targeting für Dell mit dem Beitrag "The Revenge of the Nerds", bei dem es um den "Dumbest Unassumable User" ging.
Grey-Mann Christoph Pietsch, Initiator des neuen Formats, führte durch einen großen Teil des Programms und bilanzierte: "Wir wollten der Kreativität eine Bühne geben, das haben wir getan." Seine Agentur erntete insgesamt 14 Löwen – ein Rekord für die Düsseldorfer und in hohem Maße Kreativchef Fabian Kirner und Team zu verdanken.
Die Düsseldorfer Mitglieder der diesjährigen Cannes-Jury, Fabian Kirner (Chief Creative Officer, GREY Germany), Kenny Blumenschein (Executive Creative Director Content Ogilvy & Mather) und Dennis May (Managing Director Creative DDB Düsseldorf) vermittelten höchst unterhaltsam exklusive Einblicke in die Entscheidungsfindungen in Cannes und präsentierten ausgezeichnete Spots.
Am Ende gab es für alle Aktiven auf der Bühne einen Löwen, allerdings aus Schokolade: Chocolatier und Marketing Club-Mitglied Heinz-Richard Heinemann, hatte das Raubtier von der Croisette extra für den gestrigen Abend nachgebaut.
Der "1. Night of Creativity Düsseldorf" wird auf jeden Fall eine zweite folgen – im nächsten Jahr. Weil dann wohl mit noch mehr Zulauf zu rechnen ist, hat Tonhallen-Chef Becker schon mal die Tonhalle als Austragungsort ins Gespräch gebracht.
Osi