Extra-Runde bis zum Rosenmontag-Sonntag: Am 13. März ist der letzte Drehtag des Riesenrads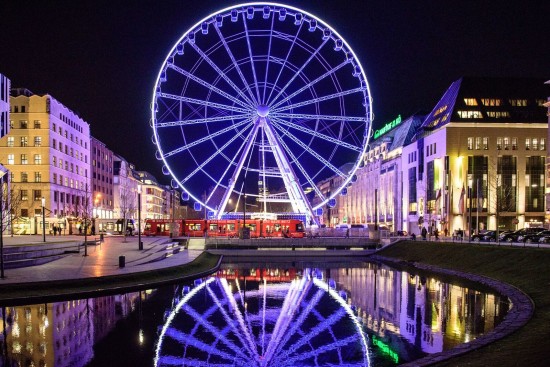 Das Wheel of Vision dreht noch eine Extra-Runde: Statt – wie ursprünglich vorgesehen –das Gastspiel auf dem Corneliusplatz am 6. März zu beenden, wird nun Sonntag, 13. März, der letzte Drehtag fürs Riesenrad sein.
 Riesenrad-Betreiber Oscar Bruch jr.: "Die Verlegung des Rosenmontagszugs auf den 13. März hat uns noch einmal umdenken lassen. Wenn sich das Wheel of Vision am Tag des Umzugs ein letztes Mal dreht, können wir den vielen Besuchern – auch denen aus Köln – noch eine zusätzliche Attraktion bieten. Ich denke, das sind wir unserer Heimatstadt schuldig."
In die Verlängerung gehen damit auch die gastronomischen Angebote im Wheel of Vision – das vom Steigenberger Parkhotel servierte "Dinner in the Sky" kann also noch bis einschließlich 13. März genossen werden.
Das Wheel of Vision war aus Anlass der Eröffnung der Wehrhahn-Linie zum Corneliusplatz umgezogen. Die städtische Genehmigung für dieses Gastspiel erstreckt sich zwar bis zum 31. März, dieser zeitliche Rahmen sollte jedoch ohnehin nicht komplett ausgeschöpft werden.
Die tägliche Öffnungszeit des Wheel of Vision ist weiterhin von 12:00 bis 20:00 Uhr. Alle Infos unter www.duesseldorf.riesenrad.info.