"Düsseldorf IN – Ärzte im Gespräch": Daniel Bahr kommt in neuer Funktion wieder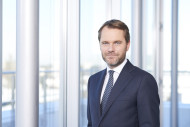 Er war der Premierengast bei "Düsseldorf IN" – Ärzte im Gespräch am 19.03.2013 in der Alten Schmiedehalle in Heerdt: Daniel Bahr (39/Foto), damals Gesundheitsminister im Kabinett Merkel.
Am 15. Juni 2016 ist er wieder Gesprächspartner von Eva Quadbeck, Expertin für Gesundheitspolitik und Leiterin der Parlamentsredaktion der Rheinischen Post. Diesmal kommt er in der Funktion des Generalbevollmächtigten der Allianz Privaten Krankenversicherung.
Für die erwarteten 600 Ärzte und Apotheker dürfte es hochspannend sein, die beiden Blickwinkel (und die Unterschiede) des Daniel Bahr zu erfahren – mal als Minister und mal als Versicherungsmann. In diesen Tagen sind die Einladungen an Partner und Gäste versandt worden.
Diejenigen, die damals bei der Premiere dabei waren, werden sich mit Sicherheit daran erinnern – 38 Grad, kühlende Luft brachte nur wenig Erfrischung, und als erstes entledigte Bahr sich seines Jackets… Es war auch der Tag, an dem US-Präsident Obama in Berlin zu Gast war und für die Minister eigentlich Präsenzpflicht bestand. Doch Daniel Bahr hatte schon ein Jahr vorher sein Wort gegeben, als Premierengast auf der Bühne zu stehen.
Inzwischen ist Daniel Bahr seit November 2014 – nach dem Ausscheiden der FDP aus dem Kabinett – als Generalbevollmächtigter der Allianz Privaten Krankenversicherung für die Bereiche Leistungsmanagement und Zentrale Vertriebskoordination verantwortlich. Zuvor war er für die Denkfabrik Center for American Progress in Washington D.C. tätig und lehrte als Gastdozent an der School of Public Health der University of Michigan in Ann Arbor.
Bahr gehörte dem Deutschen Bundestag von 2002 bis 2013 an. Von Mai 2011 bis Dezember 2013 war er Bundesminister für Gesundheit in Deutschland. Bereits im Jahr 2009 trat er als Parlamentarischer Staatssekretär im Bundesministerium für Gesundheit in die Bundesregierung ein.
Daniel Bahr ist Volkswirt und Bankkaufmann und hat einen MBA in Business Management mit Schwerpunkt International Health Care and Hospital Management.
"Düsseldorf IN" – Ärzte im Gespräch ist inzwischen zu einer Institution geworden!
Gleich dreimal war bisher der aktuelle Gesundheitsminister zu Gast. Nach Daniel Bahr auch zweimal Hermann Gröhe, der zugesagt hat, einmal im Jahr beim Ärzte-Treff Rede und Antwort zu stehen (das nächste Mal am 31. August 2016).
Außerdem standen bisher Rede und Antwort: Bundesärztekammer-Präsident Frank Ulrich Montgomery, Andreas Gassen, Vorstandsvorsitzender der Kassenärztlichen Bundesvereinigung und Josef Hecken, Vorsitzender des Gemeinsamen Bundesausschusses.
Die Deutsche Apotheker- und Ärztebank unterstützt das Veranstaltungsformat "Düsseldorf IN" – Ärzte im Gespräch seit seiner Premiere im Jahr 2013. Ihr Vorsitzender des Vorstands, Herbert Pfennig, ist davon überzeugt, dass dieses Format unverändert zeitgemäß ist: "Im Gesundheitswesen ist und bleibt der persönliche Kontakt das nachhaltigste soziale Netzwerk und die Grundlage für vertrauensvolle, erfolgreiche Zusammenarbeit. Daher wundert es mich nicht, " so Pfennig weiter, "dass "Düsseldorf IN" – Ärzte im Gespräch  auch im Jahr vier nach dem Start eine so große Anziehungskraft besitzt."
Neben dem Geschehen auf der Bühne steht – wie immer – die Netzwerkarbeit im Vordergrund. Einladende sind neben der Deutschen Apotheker- und Ärztebank auch SIGNA und die Rheinische Post. Weitere Partner sind: Dominikus-Krankenhaus in Heerdt, Hanni Banni Film, Janssen Deutschland, Allianz, medicoreha, MEDICTEAM, Mercedes Benz NL Rhein-Ruhr, Orthomol, Postcon, PVS Rhein-Ruhr und Spie Energy Solutions.