Riesenrad dreht sich wieder – ab 21. Oktober auf dem Burgplatz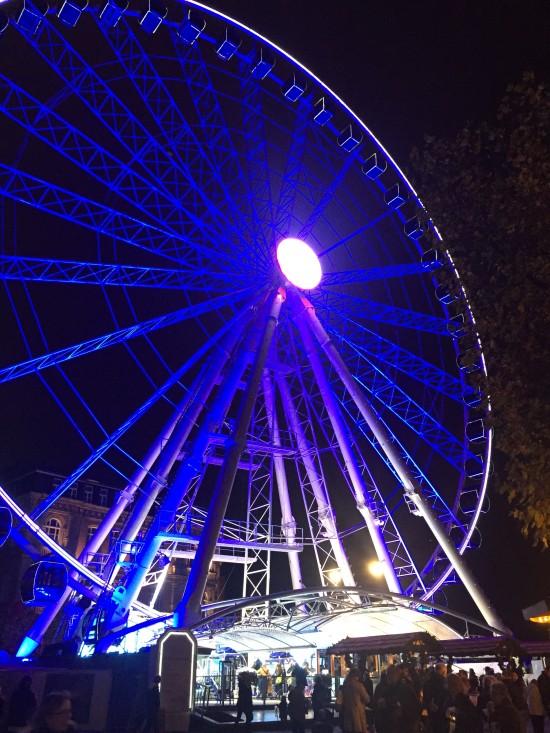 Attraktion für Düsseldorfer und Besucher: Oscar Bruch Jr.'s "Wheel of Fortune" auf dem Burgplatz – Foto: Lust auf Düsseldorf
Am Freitag, 14. Oktober, beginnt der Aufbau – eine Woche später wird sich das Wheel of Vision wieder auf dem Burgplatz drehen. Bis zum 8. Januar 2017 bleibt das 55 Meter hohe Riesenrad an seinem inzwischen schon traditionellen "Drehort" zwischen Rathaus, Schlossturm und Rheinuferpromenade.
Nach Gastspielen u.a. im polnischen Gdynia an der Ostsee und in Erfurt beginnt dann am Freitag, 21. Oktober, ab 11:00 Uhr das erneute Heimspiel des Wheel of Vision. Bereits jetzt haben zahlreiche Riesenrad-Freunde einen Brunch in the Sky reserviert oder sich für ein Dinner im Riesenrad vormerken lassen. Auch auf die Kaffeegondel freuen sich zahlreiche Stammgäste schon jetzt. Am Fuß des Riesenrads stehen vom ersten Tag an ein Imbiss und ein Ausschank. Später, zur Zeit der Weihnachtsmärkte, wird das Weihnachtsdörfchen wieder viele Leckereien bieten.
Das Wheel of Vision dreht sich täglich von 11:00 bis 21:00 fürs Publikum. An den Feiertagen gibt es Sonderregelungen. Nicht in Betrieb ist das Riesenrad am 1. und am 20. November (Allerheiligen; Totensonntag).
Fahrpreis pro Person: 7,50 Euro; für Kinder bis 1,40 m Körpergröße 5 Euro.
Reservierungs-Hotline: 0211 / 50 66 88 67
www.duesseldorf.riesenrad.info
www.facebook.de/riesenrad.info