Heinz Richard Heinemann – Süßer Oscar für den Herrn der Champagner-Trüffel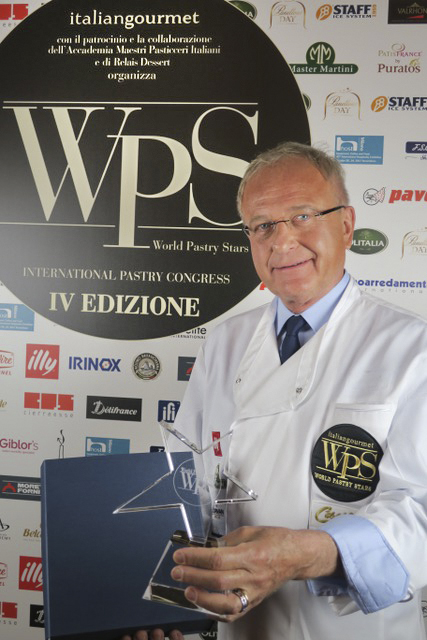 Heinz-Richard Heinemann bei der Verleihung der Trophäe in Mailand – Foto: Heinemann
Über einen Mangel an Anerkennung kann der Mann sich nicht beklagen: Papst Benedikt outete sich seinerzeit als Heinemann-Trüffel-Fan, die grünen Einkaufstüten der Firma tauchen auf weltweit gemachten Instagram oder Facebook-Fotos auf, und seine Läden in Düsseldorf und Mönchengladbach sind Pilgerstätten für Schmecklecker aus aller Herren Länder: Heinz Richard Heinemann ist der global bekannte Herr der Trüffel. Und das ist er gern.
Nun hat er in Mailand eine weitere Auszeichnung bekommen – er wurde zum "World Pastry Star". Dahinter steckt eine weltweit agierende Organisation, deren Ziel es ist, das Konditorenhandwerk zu pflegen und zu fördern, besondere Leistungen auf diesem Gebiet von Qualität und Frische zu preisen. Damit will man dafür sorgen, dass die Meister der süßen Versuchung jene Anerkennung bekommen, die ihnen nach Ansicht ihrer riesigen Fan-Gemeinde eh zusteht.
Einmal im Jahr treffen sich mehrere hundert Fachleute der feinen Kunst des Pralinen- und Trüffel-Machens, des Schokolade-Kreierens und des feinen Gebäcks. Jenseits jeder Art von Kalorienzählerei legen sie Wert auf erstklassige Zutaten, feinste Zubereitung, große Kreativität bei der Herstellung all dieser Dinge, die leider nie in einer Diät auftauchen. Sie wählen pro Jahr weltweit einen aus, von dem sie finden, ihm gebühre die Auszeichnung für besonders herausragende Leistungen auf diesem Gebiet – setzen ihm sozusagen den Zuckerhut ehrenhalber auf. Die Auszeichnung mit einer Art Oscar zu vergleichen ist durchaus gerechtfertigt. Für Heinemann selbst ist es so, als würde sein Betrieb, einem Gourmet-Restaurant gleich, mit dem dritten Michelin-Stern ausgezeichnet.
In Mailand jedenfalls ging es nun auch um den Blick nach vorn – Patisserie im Restaurant, neue Techniken bei der Herstellung und vor allem der Blick auf eine perfekte Ästhetik. Passend zum Motto der Tagung: "The future of patisserie – the essential is visible to the eye." Zu Deutsch: Zukunft der Patisserie – das Wesentliche ist für das Auge sichtbar.
Auch bei den Konditoren gilt also der Grundsatz "Das Auge genießt mit!"