"Madness" im Stahlwerk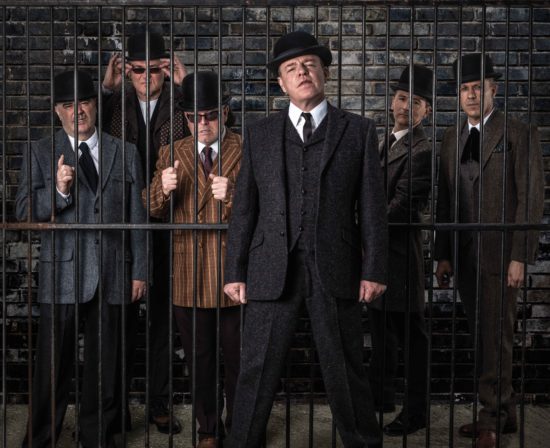 Still going strong: Madness – am 1. 11. im Stahlwerk
Für mich wird das ein Wiedersehen nach langer Zeit. Ich hatte die Gruppe "Madness" 1979 für die "Bild Super Disco" in der Dortmunder Westfalenhalle engagiert. Mit 17.000 Besuchern feierten wir damals mit meinem alten Freund Mal Sondock (der gestern Geburtstag gehabt hätte) die Show als "größte Disco der Welt", völlig zu Recht, denn so viele Discostars nonstop auf zwei Bühnen hatte es zu dem Zeitpunkt nirgendwo gegeben. Die Show ging bis fünf Uhr früh! Jetzt kommt "Madness", ja, die gibt es immer noch, für zwei Konzerte nach Deutschland. Eines davon findet am 1. 11. im Stahlwerk statt. Das wird sich lohnen.
Immer noch scheint die Band ihrem Namen "Madness" – zu Deutsch "Verrücktheit" oder "Wahnsinn" – alle Ehre zu machen. Ska, Pop, Punk, Reggae – seit drei Jahrzehnten mischen die Briten diese Musikrichtungen in einen Topf und es gelingt ihnen so ein "Nutty-Sound" der Extraklasse, der immer wieder auf's Neue begeistert.
Die Band, die hinter Klassikern wie "House of Fun" und "Baggy Trousers" steckt, hat viel Kritikerlob für ihre letzten Alben, "The Liberty of Norton Folgate " und "Oui Oui Si Si Ja Ja Da Da", bekommen. Auch mit ihrem aktuellsten Album "Can't Touch Us Now" enttäuschen sie das Publikum und ihre Fans nicht, sondern überzeugen abermals mit ihrer musikalischen Einzigartigkeit.
Eigene, fetzige Schlagzeugmelodien und durchgehende Bassläufe, die das Publikum mitreißen: Das sind MADNESS!
Aber was macht die Band so einzigartig?! Neben ihrem unverkennbaren Sound haben die Briten die Fähigkeit, Lieder über das Britische Leben und den Alltag zu schreiben – Lieder, in denen sich das Publikum wiederfindet und so eine Verbindung zu den Songs aufbauen kann. Es sind alltägliche Dinge, über die man selbst nachdenkt, aber teilweise nicht sprechen möchte. Madness jedoch tun dies, und schaffen es, auf poetische Weise genau diese Gedanken und Gefühle widerzuspiegeln.
Auch nach über 30 Jahren ist die Band noch sehr gefragt, ihre Musik spricht nämlich nicht nur ihre, sondern auch die jüngeren Generationen an. Somit verfügen sie über ein breitgefächertes Publikum und spielen auf großen Festivals wie Coachella, Benicassim, oder Glastonbury.
Verpassen Sie also nicht dieses einmalige Erlebnis und lassen Sie sich von der erfolgreichen Ska-Band und ihrem "Wahnsinn" anstecken!
01.11.2017 Düsseldorf – Stahlwerk
Tickets gibt es im Internet auf www.LB-EVENTS.de,