"The Dublin Legends" am Montag im Savoy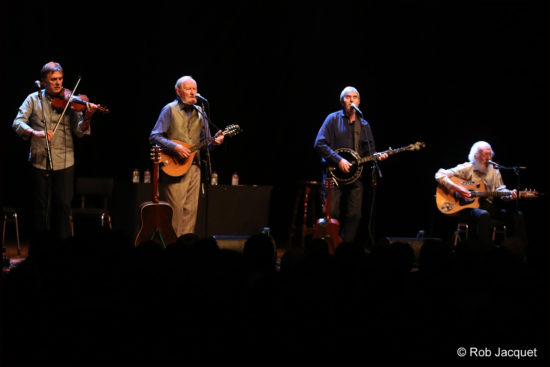 Seán Cannon, Shay Kavanagh, Paul Watchorn und Gerry O`Conner sind wahre Legenden des Irish Folk
Irland ist das Land der Mythen, Sagen und Legenden. Wer an Irland denkt, dem erscheinen Bilder vor Augen von unendlichen Weiten, grünen Wiesen, torfigem Whisky, gemütlichen Pubs und natürlich von leidenschaftlicher Musik.
Besonders die Irish Folk Musik hat weit über die Landesgrenzen Berühmtheit erlangt. Dies ist nicht zuletzt "The Ronnie Drew Folk Group" zu verdanken, die 1962, also vor genau 55 Jahren, gegründet worden ist. Sie waren schon nach kurzer Zeit erfolgreich, änderten den Namen der Gruppe in "The Dubliners" und feierten Jahrzehnte internationale Erfolge. Als 2012 das letzte Gründungsmitglied Barney McKenna verstarb, verkündete John Sheahan die Auflösung der Band. Genau hier hätte die Geschichte enden können, doch wie das mit Legenden so ist: sie werden nicht vergessen, sie gehen nicht verloren und schon gar nicht lösen sie sich auf!
In diesem Fall beschlossen die verbleibenden Bandmitglieder die Umbenennung der Gruppe, um das Vermächtnis ihrer Kollegen in Ehren zu halten und die lange Tradition weiterleben zu lassen.
THE DUBLIN LEGENDS, unter diesem Namen stehen sie nun auf der Bühne und die Bezeichnung ist nicht übertrieben. Dies bewiesen sie 2014 einmal mehr mit dem Album "An Evening with the Dublin Legends: Live in Vienna"
THE DUBLIN LEGENDS weisen ein beträchtliches und erstklassiges Repertoire an erfolgreichen Titeln auf, wodurch jeder Fan bei ihren Live-Auftritten garantiert auf seine Kosten kommt.
Wer Irish Folk Musik mag, wird die Konzerte der vier charismatischen Musiker lieben. Mit großer Begeisterung schafft die Band bei jedem Konzert eine Stimmung eines gemütlichen, irischen Pubs in wohliger Atmosphäre und mit herzlicher Lebensfreude. Bei Songs wie "Wild rover" oder "Whisky in the Jar" wird mitgesungen, geklatscht und geschunkelt, beachtlich ruhig und ein wenig wehmütig wird die Stimmung bei Liedern wie "Molly Malone" oder "Dirty old town".
Seien Sie dabei, wenn die irischen Legenden ihren Weg zurück auf die Bühne finden und genießen Sie die einzigartig fröhliche Stimmung, die nur die Iren verbreiten können.
Daten zum Konzert:
06.11.17 Düsseldorf – Savoy Theater; Tickets gibt es ab 40,00€ im Internet auf www.LB-EVENTS.de, telefonisch unter 0234-9471940 und an allen bekannten Vorverkaufsstellen.