Zwei Weltstars choreographieren beim Ballett am Rhein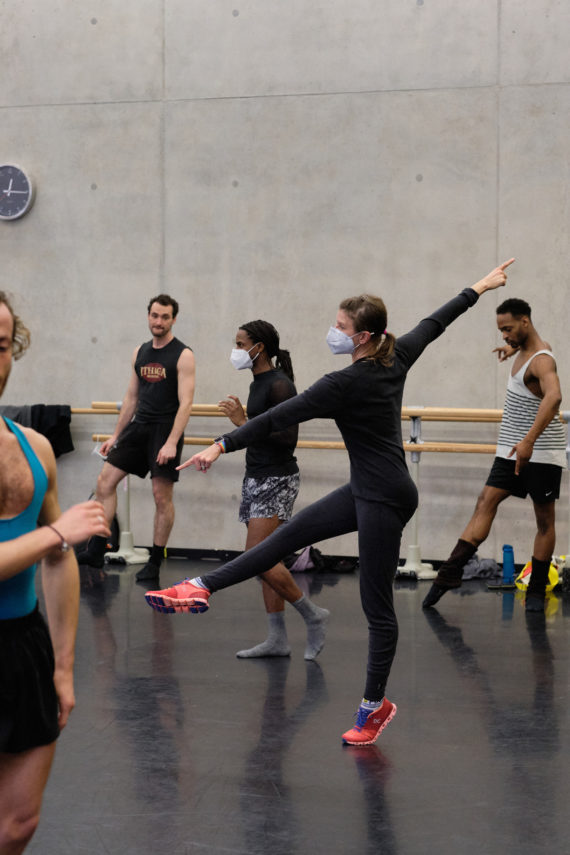 Aszure Barton und William Briscoe bei einer Probe für "Come In" mit Angehörigen des Ballett am Rhein. FOTO Daniel Senzek
Während die Theater auf die Wiedereröffnung ihrer Spielstätten warten, wird hinter den Kulissen mit allen derzeit zur Verfügung stehenden Möglichkeiten der Neustart vorbereitet. Mit striktem Hygienekonzept und einer Aufteilung der 45 Tänzerinnen und Tänzer in Kleingruppen hält Ballettdirektor Demis Volpi seine Compagnie erfolgreich auf Kurs. Auch an seinen vor der Pandemie ausgesprochenen Einladungen für Gastchoreographinnen und –choreographen aus der ganzen Welt hält er fest. Derzeit sind gleich zwei Weltstars zu Gast im Düsseldorfer Balletthaus: Twyla Tharp kreiert für das Ballett am Rhein über ein ausgefeiltes Kamerasystem live aus ihrem Studio in New York die Uraufführung "In C", und Aszure Barton studiert vor Ort ihr Stück "Come In" ein.
Auch wenn es seit November keine Möglichkeit gibt, vor Publikum aufzutreten, muss für Profis die Probenarbeit weitergehen und das in möglichst großer Bandbreite. Sie brauchen die physischen und auch die mentalen Herausforderungen, die das Einstudieren neuer Techniken und Bewegungsabfolgen mit sich bringt. "Das Ensemble braucht künstlerischen Input", sagt Demis Volpi und hält auch deshalb an seiner Entscheidung fest, gerade jetzt ein breites und abwechslungsreiches Repertoire aufzubauen, indem er Choreographen mit den unterschiedlichsten Bewegungssprachen nach Düsseldorf und Duisburg einlädt.
Wilde Eleganz
So freut sich die Compagnie derzeit über ein ganz besonderes Staraufgebot im Balletthaus: Per Videoschaltung kreiert die New Yorker Ikone des zeitgenössischen Tanzes Twyla Tharp für 20 Tänzerinnen und Tänzer des Ballett am Rhein das Stück "In C" zur gleichnamigen Komposition von Terry Riley. Durch das Zusammendenken von klassischem Tanz und Modern Dance entwickelte sie spätestens in den 1970er Jahren eine Art wilde Eleganz, einen zugänglich lässigen und humorvollen Stil, der das Ballett maßgeblich beeinflusste. Nicht nur mit den zahllosen für ihre 1965 gegründete Twyla Tharp Dance Compagnie geschaffenen Arbeiten erreichte sie Weltruhm. Auch für Institutionen wie das American Ballet Theatre, das Ballet de l'Opéra de Paris, The Royal Ballet London, das New York City Ballet, The Boston Ballet, The Martha Graham Dance Company und etliche mehr schuf Twyla Tharp einen unvergleichlichen Schatz an Stücken. Ebenso bilden Broadwayshows und ihre Arbeit mit Filmregisseuren wie Milos Forman an international erfolgreichen Produktionen wie beispielsweise "Hair" oder "Amadeus" einen Teil ihres kreativen Lebenswerks.
Verträumter Charakter
Mit "Come In" hat die kanadische Choreographin Aszure Barton eine poetisch leise, aber dringlich nachwirkende Arbeit geschaffen – den Entwurf einer Gesellschaft, die in friedlich spielerischem Miteinander lebt. Die gleichnamige Komposition für Violine und Kammerorchester von Vladmir Martynov, die sie als musikalische Basis gewählt hat, verstärkt den verträumten Charakter der Choreographie. Aszure Barton kreierte unter anderem für das American Ballet Theatre, das Nederlands Dans Theater, das National Ballet of Canada, die Martha Graham Dance Company, das Bayerische Staatsballett und das English National Ballet. 2005 war sie die erste Choreographin in Residence am Baryshnikov Arts Center in New York und schuf dort 2006 "Come In" für Mikhail Baryshnikov und 12 junge Tänzer.
Auf die Bühnen in Düsseldorf und Duisburg kommen "In C" und "Come In" als Doppelabend mit musikalischer Live-Begleitung: Unter der Leitung von Kapellmeisterin Marie Jacquot interpretieren Mitglieder der Düsseldorfer Symphoniker sowie der Duisburger Philharmoniker die Kompositionen von Terry Riley und Vladimir Martynov. In Rileys legendäre Komposition "In C", die als Keimzelle der Minimal Music gilt, ist Marie Jacquot am Synthesizer zu erleben.