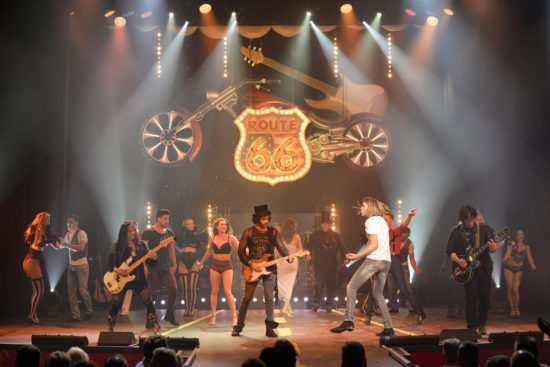 Sänger und Gitarrist Max Buskohl (weißes T-Shirt) begleitet die Show und erntet immer wieder starken Applaus.
Wenn es dich und nicht nur dich, sondern das ganze Publikum, aus den Sitzen reißt. Wenn du mitsingst und klatscht. Wenn du mit einem breiten Grinsen das Theater verlässt und im Auto "Born to be Wild" krakeelst, dann warst du bei "Route 66" im Apollo.
Bernhard Paul, der Apollo-Gründer, hatte die Show selbst angekündigt, in der auch sein Sohn Adrian auf der Rhythmusgitarre brilliert. "Mr. Roncalli" hat (unter anderem) in die Soundanlage investiert – und das hat sich gelohnt. Da wummert das "Sweet Home Alabama" und Jimi Hendrix' National Anthem kitzelt an den Trommelfellen.
"Route 66", liebe Freunde, ist das beste was es im Apollo je zu sehen gab. Ein Spitzenballett, ein leidenschaftlicher Max Buskohl, der als Sänger die Show begleitet, ein Hammer-cooler Typ namens Hieronymus als bierernster Zauberer-Moderator, der bei jedem seiner Auftritte das Publikum erobert. Und natürlich Spitzenartistik wie die von "Andrei & Aliaksandr" am Reck und wohldosierte Erotik des "Route 66-Balletts".
Musik, die mitreißt, Humor, der ankommt und Artistik, die dir Respekt abnötigt – und das in einer überaus temporeichen Inszenierung. Da kann man nur empfehlen: Buchen Sie ganz, ganz schnell, das riecht nach schnell ausverkauften Veranstaltungen.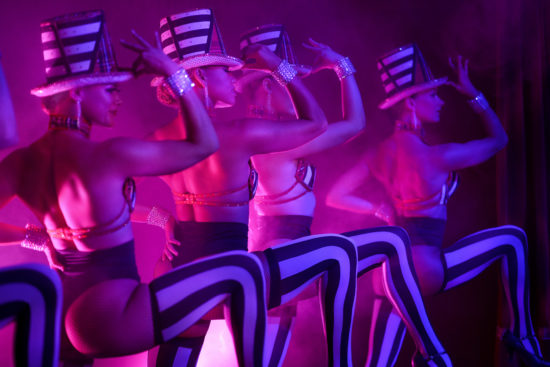 Sexy, in diversen Kostümen: das "Route 66-Ballett"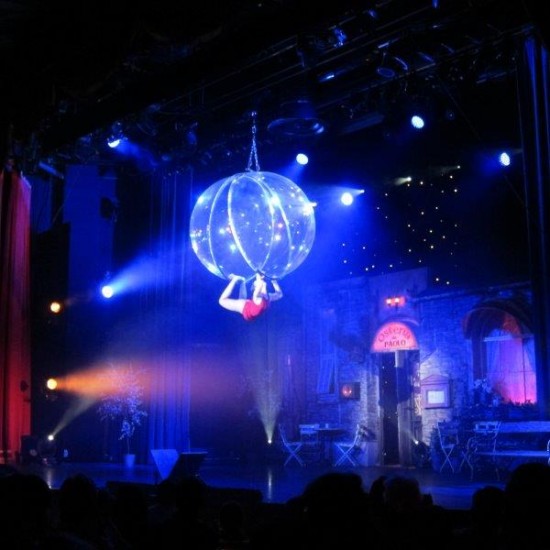 Der gefährliche Kugel-Act – Sharyn Monni war bei der Probe hinausgestürzt, gestern sprang Zwillingsschwester Shannon ein
Der Rom liegt zwar am Tiber, aber bei "Arrivederci Roma", dem neuen Programm im "Apollo" wird auch viel Po gezeigt. Sexy Girls, erstklassige Equilibristik und Jonglage, Musik die zum Mitsingen einlädt und eine dicke Prise Humor, das lohnt den Besuch in unserem Varieté Theater. Dessen Gründer Bernhard Paul erklärte gestern bei der Vorpremiere, er habe wieder richtig Spaß am "Apollo" gewonnen und man bekam somit den Eindruck, er sei ihm zwischendurch abhanden gekommen.
Für die Zukunft kann man somit vielleicht noch schönere Höhepunkte erwarten. Gute Nachricht am Rande: Außer dem Programm verdient auch die Küche Lob, die Qualität hat sich deutlich verbessert und der Service war ganz besonders freundlich und schnell.
Das Programm war großartig, insbesondere die Handstand-Artisten Johnny und Omar Marton, Erik Niemen (Drahtseil) und die Comedians Los Gotys.
Unter den Premierengästen waren Edelkonditor Heinz-Richard Heinemann, Ex-TV-Wissenschaftsjournalist Jean Pütz, Kölns Charity Lady Charlotte Feindt (bereitet [Read more]