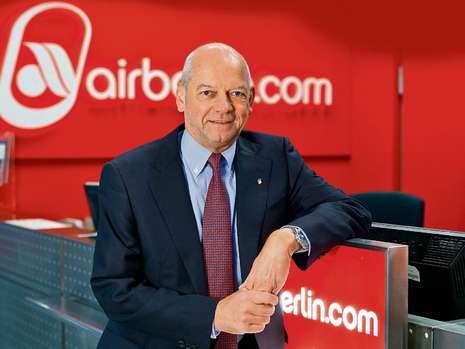 In einer adhoc-Meldung (siehe Ausriss) gab Air Berlin heute Vormittag bekannt, dass Achim Hunold, CEO des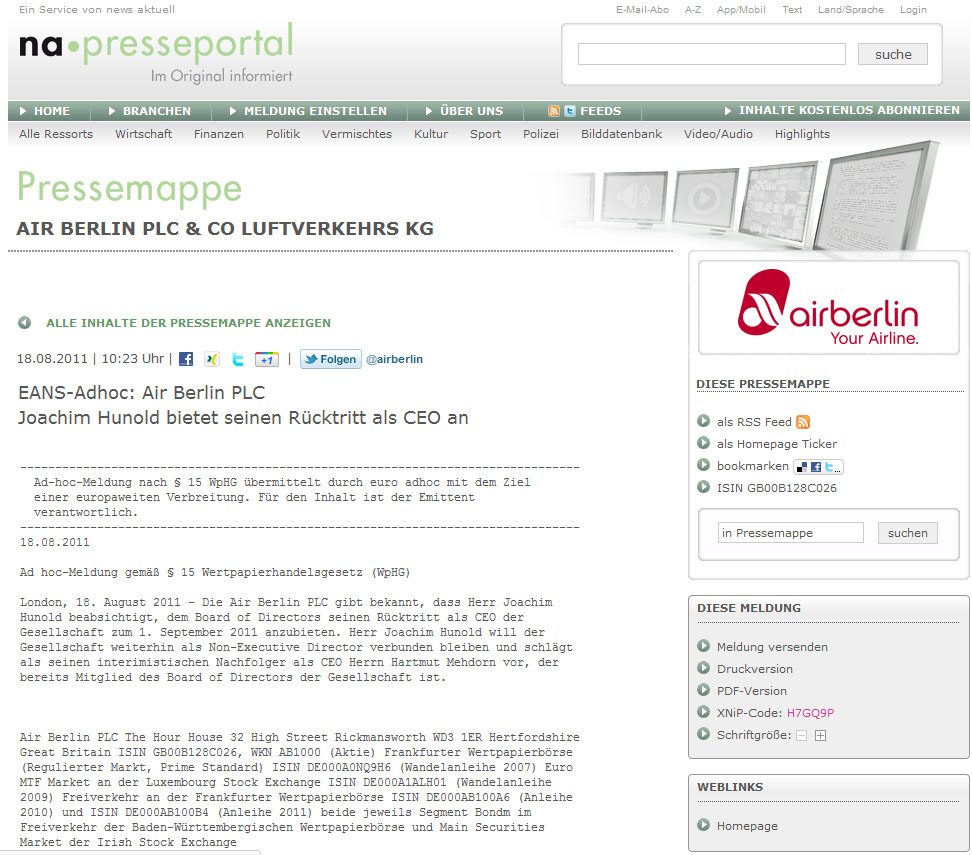 Unternehmens, beabsichtige, dem Board of Directors seinen Rücktritt zum 1. September anzubieten.
Er will gemäß der Meldung der von ihm gegründeten Airline, mittlerweile die  zweitgrößte des Landes nach Lufthansa, weiterhin als Non-Executive Director verbunden bleiben. Als interimistischen Nachfolger schlägt der Düsseldorfer den Ex-Bahn-Chef Hartmut Mehdorn vor, der bereits Mitglied des Board of Directors der Gesellschaft ist.
Schneller Rückblick: Achim Hunold hat eine steile Karriere hingelegt – der Vergleich mit dem klassischen Tellerwäscher hinkt nicht.
Nach eher lustlosem Studium zog es den Düsseldorfer an den Flughafen, wo er als Ramp Agent arbeitete. Bei einem Flug lernte er eine Leitende Mitarbeiterin der LTU kennen, die sein Talent erkannte und ihn prompt anheuerte. Achim Hunold arbeitete im Verkauf mit, saß bei dem damaligen Verkaufsleiter Klaus Simon gewissermaßen am Katzentisch und lernte. Er lernte schnell, kurz darauf war er Simons Chef und wenig später, neben dem LTU-Chef Werner Huehn die Nr. 2 im Unternehmen. Ein Journalist vergleich das Team damals mit Fuchs (Huehn) und Wolf (Hunold). Achim Hunold war ein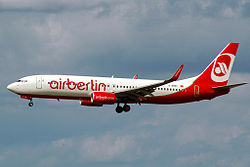 Verkaufsgenie, konnte mit allen und kurbelte das Geschäft an, während Werner Huehn die Finanzen sauber hielt.
Es hatte mit den Besitzern der LTU, der damals (und womöglich heute noch) zerstrittenen Familie Conle zu tun, dass die WestLB unter ihrem Chef Friedel Neuber dann das Sagen bei LTU bekam. Achim Hunold war Neuber zu selbstbewußt und eigenständig – und musste 1990 gehen. Kurz darauf  bekam auch Werner Huehn den Laufpass. Neuber soll diese Personalentscheidungen später bereut haben.
Achim Hunold nahm eine Auszeit, machte sich mit Computertechnik vertraut, erlernte das Golfspiel – und schmiedete Pläne. Freunde, die sich damals nach beruflicher Neuorientierung erkundigten, beschied er: "Mach dir mal keine Sorgen." 1991 übernahm er mit finanzieller Unterstützung von Investoren die winzige Airline Air Berlin und kaufte dann das erste Flugzeug, eine Boeing 737. "Mehr als zwei, drei Flugzeuge will ich nicht haben", äußerte er damals. Er wollte gewissermaßen unter dem Radar fliegen, weder von Airlines noch von großen Touristikunternehmen als Konkurrenz wahrgenommen werden.
Irgendwann hat er umdisponiert. Der Rest ist bekannt: Air Berlin hat 160 Flugzeuge und knapp 9000 Beschäftigte, ist zweitgrößte Airline Deutschlands und setzte im letzten Jahr 3,72 Milliarden Euro um.
Die Wirtschaftszeitungen werden morgen schreiben, dass Hunold mit seinem Rücktritt die Konsequenzen aus schlechten Zahlen ziehe. Ich finde sehr viel bedeutsamer, dass hier ein Mann mit leidenschaftlichem Engagement eine phantastische Lebensleistung abgeliefert hat. Ein solches Unternehmen aus dem Boden zu stampfen würde seinen Kritikern kaum gelingen.
Achim Hunold bleibt natürlich in gewisser Weise im "Driver Seat", was soll einer sonst machen, der wie er Kerosin im Blut hat.