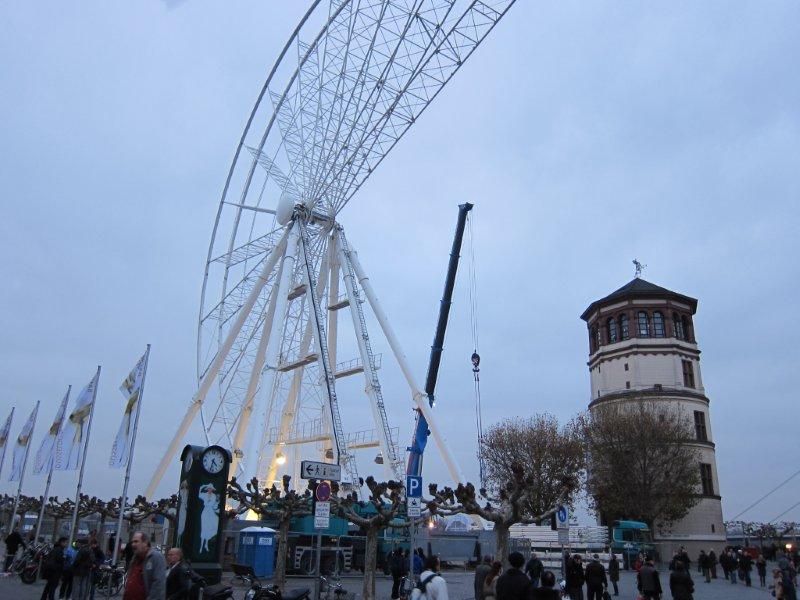 Der Burgplatz heute Nachmittag: Das Riesenrad ist schon fast zur Hälfte aufgebaut
Das wird ein absoluter Höhepunkt zum Jahresende: Oscar Bruchs gewaltiges Riesenrad wird zur Bambi-Verleihung nächste Woche seine ersten Runden drehen und bis zum 20. Januar die absolute Attraktion am Rheinufer sein. An dem 350 Tonnen schweren Riesenrad werden sich während der zehnminütigen Fahrt (Kosten 7/4 Euro) 40 Gondeln drehen, in denen jeweils acht Personen Platz finden.
Die Gondeln sind beheizt, und es gibt auch noch eine verdunkelte VIP-Go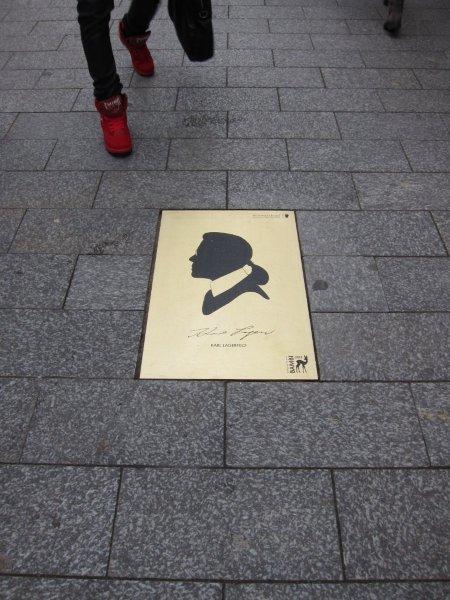 ndel mit Leder-Schalensitzen. Aus 55 Meter Höhe können Fahrgäste den Blick auf Düsseldorf genießen.
Schon heute Nachmittag war das Riesenrad begehrtes Fotoobjekt. Das weiße Rad verfügt in der Mitte über eine Projektionsfläche, die mit Sicherheit als erstes Motiv das Bambi zeigen wird.
In Verbindung mit dem "Walk of Fame" auf der Königsallee (Foto: Karl Lagerfeld) und dem leuchtenden Rehlein im Kögraben ist dies alles eine tiefe Verbeugung der Stadt Düsseldorf vor dem Burda-Bambi. Das finden nicht alle Düsseldorfer toll; ganz gewiss gehört auch das Grüppchen der Veganer dazu, das heute direkt vor dem Pelzgeschäft Slupinski auf der Kö gegen Pelze zu Felde zog.
Unterhält man sich mit den Leuten, kann man nicht umhin, ihr Engagement anzuerkennen. Was jedoch auffällt, ist die Aggressivität, mit der sie für ein Leben ohne Tierprodukte missionieren. So wird jede Pelzträgerin unflätig beschimpft und Nicht-Veganer werden rundum für schlechte Menschen erklärt. Statt mit Argumenten Zugang zu Andersdenkenden zu suchen werden sie in die Ecke gestellt.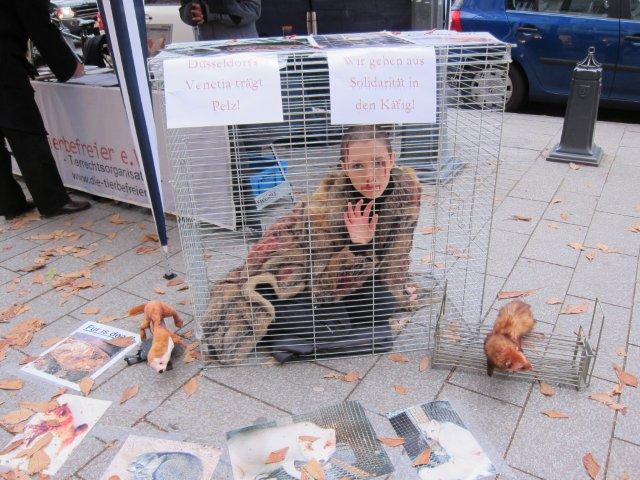 Tierschutz-Aktivistin im Käfig, Angriff auf die Venetia, weil sie Pelz trägt. Ob sie nicht friere, frage ich das Mädchen. Doch, schon, sagt sie, aber für die Tiere nehme sie das gern in kauf.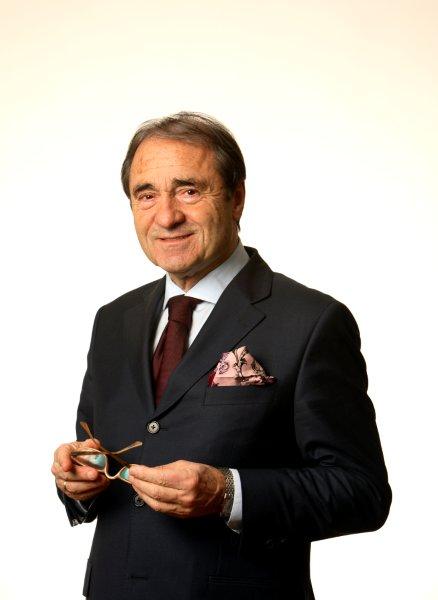 Deutschlands Parfumnase Nr. 1, Frank Schnitzler, dreht nach dem Verkauf seiner Geschäfte noch mal richtig auf und veranstaltet – zum dritten Mal und im größeren Stil, am 9. und 10. April eine große Duftmesse, die er in diesem Jahr noch um die Bereiche Kosmetik und Makeup erweitert.
Die Rheinterrassen, wo der umtriebige Doyen der Duftmarken seine Messe im letzten Jahr veranstaltete, waren zu klein geworden. In diesem Jahr weicht Schnitzler, mit Albert Eickhoff und Georg Hornemann Teil des stilprägenden Highclass-Fashion- und Lifestyle-Trios Düsseldorfs, ins  Hotel Maritim aus und präsentiert dort seine erweiterte Messe, zu der sich bereits mehr als 100 Aussteller angemeldet haben.
Unter dem Namen "Global Art of Perfumery" tritt Schnitzler, der gerade ein Standardwerk über Parfum veröffentlicht hat,  mit dem Anspruch an, die Trend setzenden Anbieter zu versammeln und – im wahrsten Sinne – "Duftmarken" zu setzen.
Dem hohen Anspruch der Messe soll auch das Rahmenprogramm entsprechen. So heuerte Frank Schnitzler den Sänger Baptiste an, der als Muse von Karl Lagerfeld gilt. Über den Beaux sagte Naomi Campbell: "Wir haben alle unsere kleinen Defekte, er hat keine." Wer weiß, wie verbunden "Karl der Große" seinem Baptiste ist, hält für möglich, dass Lagerfeld ihn nach Düsseldorf begleitet.