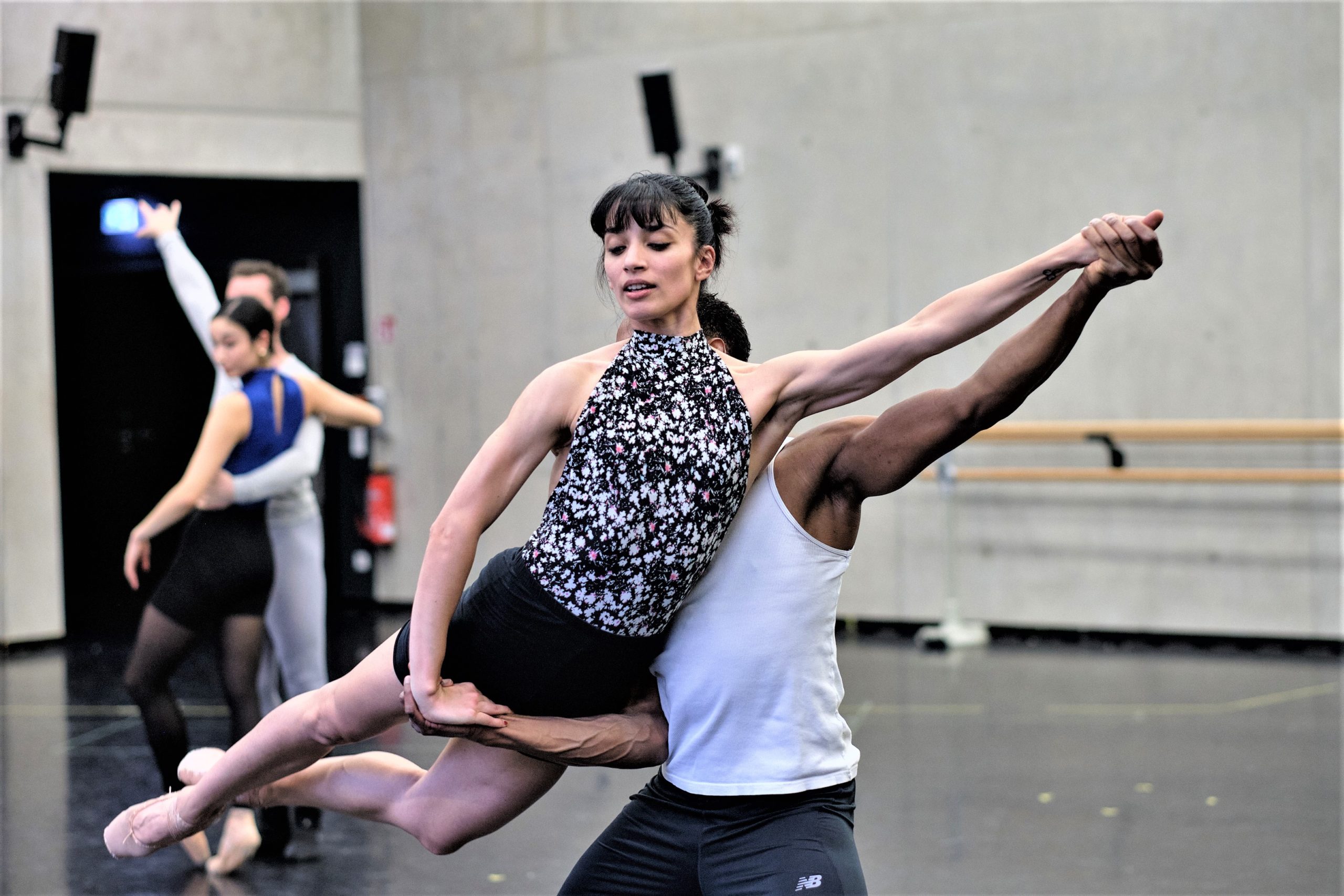 Probe für "Polyphonia" – Foto: Daniel Senzek
Drei ganz unterschiedliche choreographische Handschriften von Klassik bis Techno sind im neuen Ballettprogramm "One and others" zu erleben. Was die Stücke miteinander verbindet, ist ihr hoher Anspruch an technische Präzision und ihre enorme Anforderung an die tänzerische Kondition: In völlig unterschiedlichen Tanzsprachen schlägt das Ballett am Rhein einen weiten Bogen von "Polyphonia" über "one and others" bis "Salt Womb." Am Samstag, 2. April, um 19.30 Uhr ist Premiere im Opernhaus Düsseldorf.
Erste Einblicke in das neue Programm mit anschließendem Probenbesuch bietet bei freiem Eintritt die Ballettwerkstatt am Montag, 28. März, um 18.00 Uhr im Foyer des Opernhauses.
"Polyphonia" – übersetzt Vielstimmigkeit – hat der Brite Christopher Wheeldon sein Ballett aus dem Jahr 2001 zu Musik von György Ligeti genannt. Das Stück beginnt wie ein getanzter Kanon: vier Paare bewegen sich in komplex versetzten Abläufen und treffen immer wieder in synchronen Bewegungen zusammen. Das Licht geht aus und wieder an, und die nächste kleine Episode entfaltet sich auf der Bühne – mal ein zartes Liebesduett, dann ein energiegeladenes Herrendoppel oder ein phantasievolles Solo. Anknüpfend an den neoklassischen Stil von George Balanchine ist dieses frühe Werk Wheeldons schon jetzt zu einem Meilenstein der Tanzgeschichte geworden. [Read more]