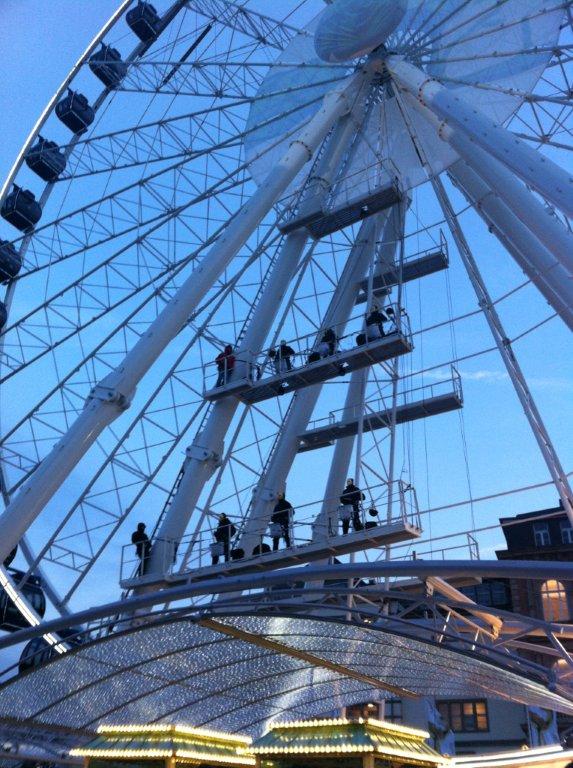 Es war ein spektakulärer Höhepunkt für Düsseldorf, das gewaltige Riesenrad von Oscar Bruch Jr. Jetzt hat es sich – vorerst – zum letzten Mal gedreht. Von der ersten Runde an am 21. November hat es vielen tausend Düsseldorfern und Besuchern aus anderen Städten Düsseldorf von oben gezeigt, bequem und kuschelig in geheizten Gondeln. Rund 14.500 Mal hat sich das weiße Riesenrad gedreht und vielen Menschen Freude gebracht.
Die VIP-Gondel machte sich besonders für eine kleine Gruppe von Nutzern bezahlt – in ihr fanden acht Heiratsanträge statt; das ist zumindest die gesicherte Zahl.
Betreiber Oscar Bruch ist mit dem Gastspiel in Düsseldorf "wirtschaftlich zufrieden", sieht aber noch "Steigerungspotenzial". Sehr angetan waren Ariane und Oscar Bruch vom Zuspruch der Besucher: "Warum könnt ihr nicht für immer bleiben? " Wann kommt ihr wieder?" waren die meist gestellten Fragen. "Eine Resonanz, die wir sonst – bei Kirmesveranstaltungen – gar nicht kennen. Das war schon sehr bewegend."
Audi hat das Duo Schlossturm/Riesenrad in seinem neuen Spot für den Quattro quasi als deutsches Wahrzeichen – neben Brandenburger Tor, Reichstagskuppel und Hamburger Landungsbrücken – aufgenommen. Der Spot läuft nach wie vor im Werbeprogramm.
"Wir würden gern wiederkommen!" sagen die Bruchs. Zwei Monaten in Citylage, das war für sie eine neue Erfahrung – aber eben auch ein erfolgreiches Projekt. Vielleicht sogar ein Referenzprojekt für andere Großstädte. Ein gelungenes Experiment war der Riesenrad-Einsatz auch in kulinarischer Sicht. Das Angebot "Brunch in the Sky" (in Kooperation mit dem Schwan) und das "Picknick in the Sky" (Foodbox  in Koop mit Stockheim) war stark gefragt.