Für das Wintersemester wurden vier Professuren an der Düsseldorfer Kunstakademie neu besetzt:
Für den Fachbereich "Bildende Kunst" wurde Prof. Richard Deacon auf eine Professur für Bildhauerei berufen.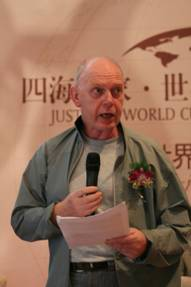 Der im Jahr 1949 in Bangor/Wales geborene Künstler hatte von 1969 bis 1972 an der "St. Martins School of Art" sowie von 1974 bis 1977 am "Royal College of Art" in London studiert. Im Jahr 1987 wurde seine Arbeit mit dem Turner-Preis ausgezeichnet.
Deacon war bereits als Gastprofessor u.a.  an der "Chelsea School of Art" in London, der "Hochschule für Angewandte Kunst" in Wien sowie als Berater an der "Rijksakademie van beeldende kunsten" in Amsterdam tätig, bevor er im Jahr 1999 an die "Ecole nationale supérieure des beaux-arts" in Paris berufen wurde. [Read more]