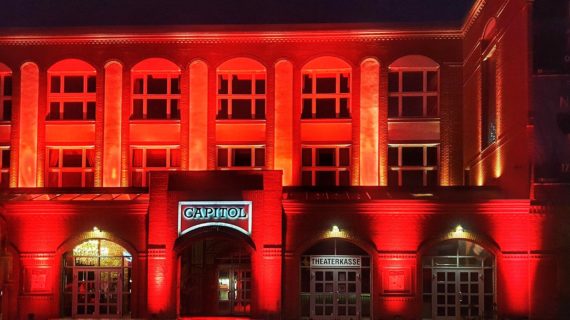 Am 22. Juni werden im Rahmen der zweiten Ausgabe der Night of Light wieder deutschlandweit zahlreiche Gebäude, Spielstätten und Sehenswürdigkeiten in rotes Licht getaucht. Mit dem Musical Dome Köln und dem Capitol Theater Düsseldorf schließen sich zwei der größten Theater NRWs auch in diesem Jahr wieder der Aktion des Bündis #AlarmstufeRot an.
Das rote Licht als Zeichen des Protests: Bereits im letzten Jahr hat die Kultur- und
Veranstaltungsbranche mit der Aktion auf ihre pandemiebedingte existenzbedrohende Lage
aufmerksam gemacht. Auch im Musical Dome und im Capitol Theater waren die Türen seitdem
geschlossen, der Lockdown dauerte über ein Jahr. Mit den neuesten Öffnungsschritten ist jedoch ein
Ende in Sicht, wie Theaterleiter Henning Pillekamp erklärt:
"Für uns ist das rote Licht in diesem Jahr ganz klar auch ein Zeichen der Hoffnung. Die Kultur musste von Anfang an lauter um Hilfe rufen als viele andere von der Pandemie betroffene Bereiche. Als wir im letzten Jahr bei der ersten Night of Light mitgemacht haben, gab es für uns weder Unterstützung noch Öffnungsperspektiven – heute sind wir optimistischer."
Erste Veranstaltungen im Sommer
Beide Theater arbeiten inzwischen konkret auf eine Wiedereröffnung hin und sprechen mit
Veranstaltern über aktuelle Buchungen. Erste Veranstaltungen können bereits im Sommer
stattfinden. Ab Herbst hofft man auf eine Rückkehr zum regulären Spielbetrieb mit internationalen
Tourproduktionen und Gastspielen sowie exklusiven Events.
"Wir wissen es sehr zu schätzen, dass wir wieder zuversichtlicher in die Zukunft schauen können.
Umso erschreckender ist es, dass das noch längst nicht für alle Akteure der Veranstaltungsbranche
gilt und wir ein Jahr später immer noch eine Protestaktion brauchen, um auf diese Situation
aufmerksam zu machen. Für uns ist es daher keine Frage, dass wir uns auch aus Solidarität mit den
anderen Betroffenen wieder anschließen", erklärt Henning Pillekamp die Teilnahme an der Night of
Light mit Blick auf die Betriebe und Künstler, die immer noch keine ausreichenden Hilfen erhalten
und kaum Perspektiven für einen Neustart haben.
Im Musical Dome und im Capitol Theater startet die Night of Light am 22. Juni ab 22 Uhr. Die Aktion
kann sowohl vor Ort als auch über die Social Media-Kanäle der Theater sowie über den Hashtag
#AlleLichtMachen verfolgt werden
Der Countdown für die neue Eishockey-Saison im ISS DOME läuft – Am Montag hat die Deutsche Eishockey Liga (DEL) den neuen Spielplan 2012/2013 veröffentlicht. Ab September wird der ISS DOME wieder zum Eis-Tempel für alle Fans der Düsseldorfer EG. Das erste DEL-Heimspiel bestreitet die Mannschaft am Freitag, dem 14. September 2012 um 19.30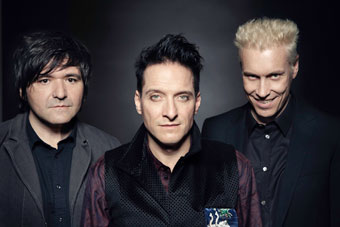 Uhr gegen die Iserlohn Roosters. Vorab feiert der Verein in seiner Heimstätte im Rahmen eines Testspiels am Sonntag, dem 9. September 2012, gegen die Krefeld Pinguine seine offizielle Saisoneröffnung. Bis Ende 2012 stehen insgesamt 14 Liga-Spiele der Düsseldorfer EG auf dem Programmplan des ISS DOME.
 Konzerte und Comedy
Darüber hinaus können sich die Besucher der Rather Multifunktionshalle in der zweiten Jahreshälfte auch über ein abwechslungsreiches Angebot an Musik- und Show-Highlights freuen. Neben sieben Konzerten präsentiert der ISS DOME im November und Dezember zwei Eis-Shows, ein Motorrad-Event [Read more]