Auf gute Nachbarschaft! Auch am neuen Standort Corneliusplatz/Königsallee setzen Ariane und Oscar Bruch jr  auf die Zusammenarbeit mit den unmittelbaren Nachbarn: Fürs Wheel of Vision wird das "Dinner in the Sky" vom Team des Steigenberger Parkhotels kreiert und serviert. 
Parkhotel-Direktor Carsten Fritz hat die Zusammenarbeit initiiert: "Oscar Bruch jr. und das Steigenberger Parkhotel sind Unternehmen mit  langjähriger Historie und Tradition, [Read more]
Gut für Düsseldorf: Das Interconti kommt zurück.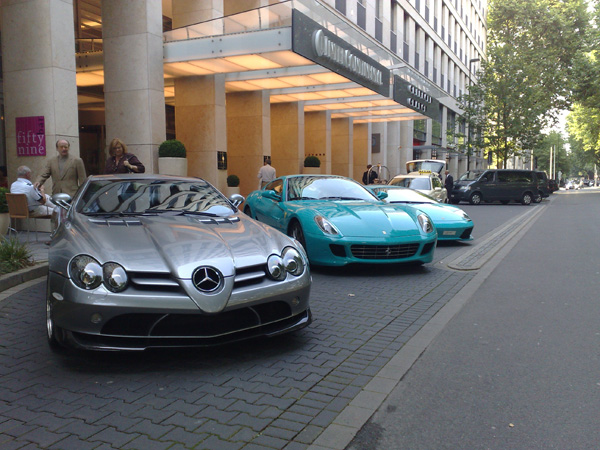 Nach einem eher unschönen öffentlichen Schlagabtausch über finanzielle Ungereimtheiten zwischen dem Pächter der Hotel-Immobilie an der Kö und der Interconti-Gruppe IHG hatte die internationale Hotelgesellschaft den Standort Düsseldorf aufgegeben und Pächter Neue Dorint hatte ein Dorint-Schild an die Fassade montiert.
Zum 1. Juni wird wieder geschraubt: Dorint-Schild runter, Interconti-Schild wieder rauf. Die Interconti-Gruppe kommt  zurück  an die Kö und damit auch die Chance auf mehr internationale Gäste, die Geld in die Stadt bringen. [Read more]
Wie die Rheinische Post meldet, heißt der neue General Manager des Steigenberger Parkhotels Michael Kain. Der 50-Jährige soll bereits zum 1. Juli die Leitung des Hotels übernehmen, das bislang von dem eher blassen Hennig

Thomas Graf von Schwerin geführt wurde.
Das Traditionshotel an der Kö, derzeit stark von den Bauarbeiten der Wehrhahn-Linie und durch die Übergangsstraße durch den Hofgarten beeinträchtigt, leidet unter einem Renovierungsstau und muss dringend auf Glanz gebracht werden.
Michael Kain führte bislang das Steigenberger Hotel Bad Homburg und ist seit 1980 für die Steigenberger Hotel Group tätig.