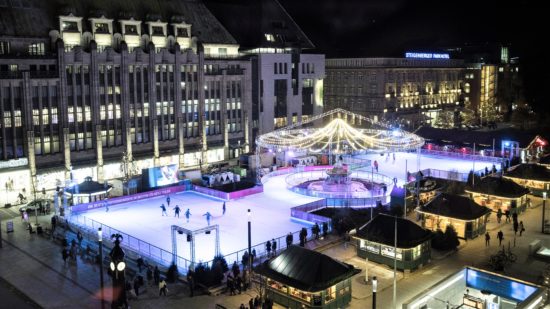 Ab dem 15. November eröffnet Oscar Bruchs "DEG-Winterwelt" an der Kö. Neu: Dieses Jahr wird die Eisbahn abends eine Stunde länger geöffnet haben: bis 21 Uhr, am Wochenende bis 22 Uhr. Vormittags können Schulklassen auf's Eis. Bis Mitte Januar werden mehr als 50.000 Besucher erwartet.
Event-Unternehmer Oscar Bruch dreht in diesem Winter damit – im wahrsten Sinne – ein großes Rad. Auch in Oberhausen ist er präsent – mit einem zusätzlich zu drei eigenen Riesenrädern gemieteten Rad, das er im Centro aufstellt. Schon an diesem Samstag dreht sich sein "Wheel of Vision", das Super-Riesenrad, am Burgplatz. Er verzichtet auf eine Preiserhöhung – trotz gestiegener Kosten. Erwachsene zahlen 7,50 Euro, Kinder unter 1,40 Meter 5 Euro.
Ab dem 21. November haben auch die Weihnachtsmärkte wieder geöffnet.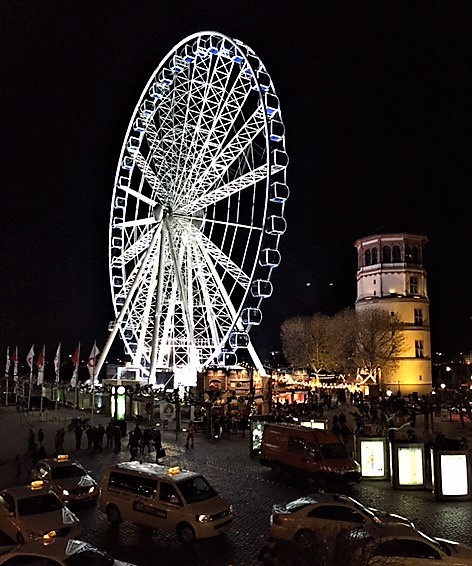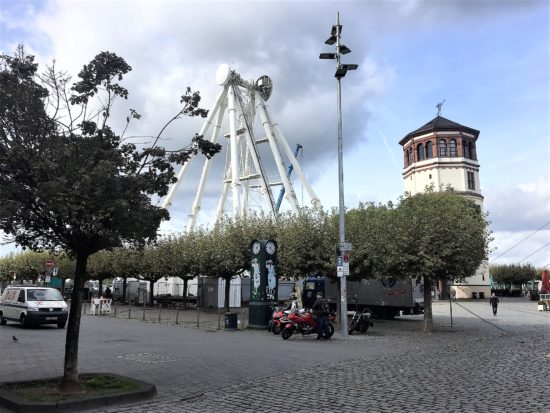 In wenigen Tagen dreht sich wieder das "Wheel of Vision" am Burgplatz, der Unterbau steht bereits – Foto: Lust auf Düsseldorf
Ab Mittwoch nächster Woche dreht sich wieder Oscar Bruch Jr.'s "Wheel of Vision" auf dem Burgplatz. Das 55 Meter hohe Riesenrad ist bereits im Bau.
Bis zum 7. Januar 2018 bleibt das Wheel of Vision dann an seinem inzwischen schon traditionellen "Drehort" zwischen Rathaus, Schlossturm und Rheinuferpromenade. [Read more]