Onkel Oberbilks Tipps für's Wochenende
Zwei mal zwei! 
Fr. 23.02.2007 // 22.00 H // 5,- € // harpune // Aftershowparty zur EXIT 07 "listen to the lion"
DJs: DK Pimps all night long Special: Billig & Willig feat. DJ Kaltes Händchen
Die diesjährige AMD Fashionshow EXIT 07 trägt den Titel "listen to the lion" und ist damit eine Hommage an die Stadt Düsseldorf. 19 Absolventen des Fachbereiches Modedesign präsentieren ihre Abschlusskollektionen am Freitag, den 23.02.07 ab 19.00h in der Düsseldorfer Philipshalle. Zur Aftershow-Party lädt die AMD in die Harpune am Hafen ein. Die DK Pimps werden mal wieder fast "all night long" die pune beschallen, das musikalische Programm wird mal wieder zusammengestellt nach dem Motto: "Es wird getanzt und nicht gemixt!" On Top gibt's noch eine Weltpremiere: einen Live-Gig von "Billig & Willig" Feat. DJ Kaltes Händchen!
Fr. 23.02.2007 // 22.00 H // 7,- € // monkeys club // ride the monkey
DJs: Starskie (304 Radio, Foto) und Oliver Hess vs. Khaan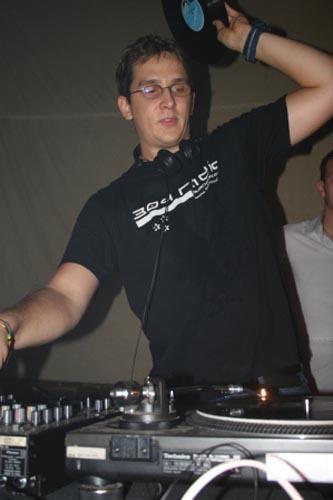 Nachdem die beiden Kölner Oliver und Khaan bereits im letzen Oktober einen neunstündigen Ping-Pong an den Tellern hingelegt haben geht es heute Abend in die 2. Runde. Unser Lokalmatador und 304-Member Starskie wird von 23 Uhr bis 3 Uhr für eine Affenhitze sorgen, damit erstens die Crowd auf Betriebstemperatur ist und zweitens die Kellner auch nach dem Besucher-Peak nicht hinter der Theke einschlafen. Viel Spaß beim "Affenreiten"!
Sa. 24.02.2007 // 23.00 H // 10,- € // harpune // Combination vs. Firm
DJs: Andre Kraml, Frank D´Arpino Live: NASS aka Geiger (Foto), Douglas Greed
Zum dritten Mal treffen diese zwei Plattenfirmen der verfeindeten Städte Köln und Düsseldorf bei einer Tanznacht aufeinander. Die Rede ist von Firm Records aus Kölle und dem heimischen Combination Records. Jeweils zwei Vertreter sind am Start.
Sa. 24.02.2007 // 23.00 H // 10,- € // home14 // Massimo's B-Day
DJs: Massimo, Patrick Lindsey, Oliver Bondzio, Alberto Stefano, Christian Linder und Gastgeber Alexander Bongardt
 
Massi feiert am Samstag im home seinen Geburtstag, der Wievielte es ist, wird nicht verraten. Aber eine 3 wird schon davor stehen, schließlich war er schon 1993 Resident im Kölner Warehouse (RIP), welches die wenigsten der heutigen home-Besucher miterlebt haben dürften. Er legte in Clubs wie Omen und Tresor auf, releaste auf Labels wie Primate, SOK, Compressed, Superfly und PV Records. Sozusagen ein Dino der Szene.
Euer Onkel Oberbilk