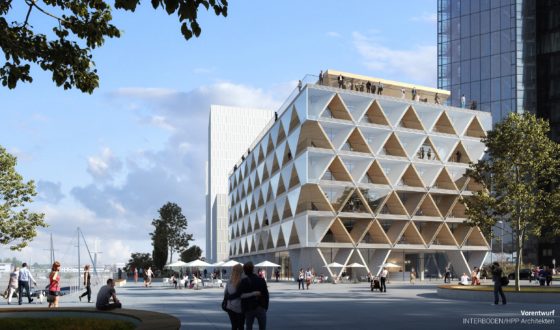 Entwurf der renommierten HPP-Architekten – das Haus entsteht im Medienhafen
"The Cradle" von INTERBODEN ist in Cannes während der Fachmesse MIPIM mit dem international renommierten "MIPIM Architectural Review Future Project Award" in der Kategorie Office ausgezeichnet worden.
The Cradle ist ein Entwurf des renommierten Architekturbüros HPP Architekten, das für die besondere Immobilie an exponierter Lage eine spektakuläre Formsprache gefunden hat. Das Bürohaus entsteht an der Speditionsstraße im Düsseldorfer Medienhafen. The Cradle bietet 5.200 Quadratmeter Nutzfläche sowie 600 Quadratmeter Fläche für gastronomische Nutzungen.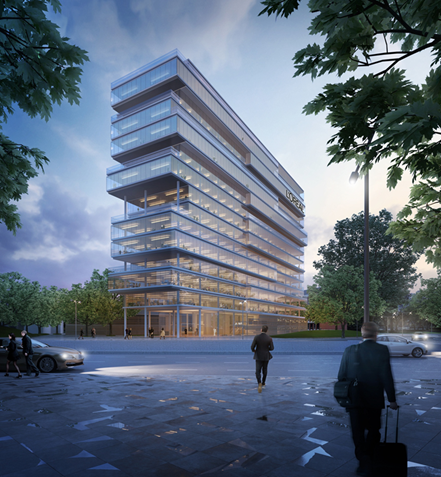 Bald ein "Hingucker" am Kennedydamm – das neue Hauptquartier von L'Oréal – Foto: die developer/HPP
Seit einem Vierteljahrhundert ist L'Oréal, der französische Weltkonzern für Kosmetikprodukte, in Düsseldorf vertreten. Nun legt die deutsche L'Oréal Tochtergesellschaft ein klares Bekenntnis zum Standort Düsseldorf ab und gibt den Projektentwicklern "die developer" den Zuschlag, ein neues Headquarters an einem Standort in prominenter Lage zu planen. Das Haus, entworfen von den HPP Architekten, soll 16 Stockwerke hoch sein. [Read more]