Onkel Oberbilks Tipps für's Wochenende!
Geburtstagswochenende!
Fr 10.08.2007 // 22:00 // 10,- // Nachtresidenz // "There`s no guestlist tonight!"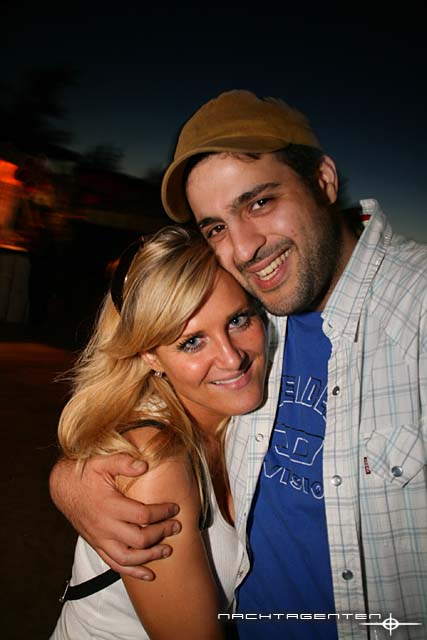 Amin aka Charly Parker an einem gewissen See bei Neuss
Gleich zwei Geburtstage sind an diesem Abend Anlass für ausgelassene Feierei. Micropacer aka. Mark Baumann ist nun seit mehr als drei Jahren Kopf der Nachtagenten NRW. Ihm zur Seite steht an diesem Abend Charly Parker alias Amin Ben Achour, dessen Veranstaltungen Ride The Monkey und Park`n Ride bereits ein fester Bestandteil des Düsseldorfer Nightlifes sind. Zu den Gratulanten des Abends gehören zahlreiche Wegbegleiter der beiden verrückten Partyliebhaber. So haben sich die DJs und Produzenten Andry Nalin & Gregor Wagner, auch bekannt als Duo Bush II Bush, Kid Chris & Abel Reballo, bekannt durch ihre weltweiten "In bed with Space" Gigs, GIAN aka Kurd Maverick, wohl einer der international aufstrebensten DJs überhaupt (u.a. Remixe für Robbie Williams, Basement Jaxx und Bob Sinclar), DJ Hooligan und auch DJ Tapesh, die Discogranate aus Düsseldorf im Kuppelsaal angekündigt. Nicht minder bekannt dürfte Olli Wallner aka Horny United sein. Mit seinem Überhit "Paris Latino" beherrschte er weltweit die Clubcharts. Den Support übernimmt Stadi aus dem Frankfurter Monza Club.
Micky Tiger, Savi, Martin Heyder, Starskie & Pierce sowie Superlounge werden gewohnt feinste Electro-Klänge präsentieren.
Als besonderen Gast hat sich Massimo angesagt, der seit Jahren nicht mehr aus der nationalen und internationalen DJ Szene wegzudenken ist. Nicht ganz so ruhig wie sonst geht es auf dem Damenklo zu Sache. Dort heißt es "zu heiß, zu laut, zu voll" – Schalli (Monkey`s Island) und die DK Pimps rocken die Waschräume der Damen!
Wer die beiden Geburtstagskinder kennt, weiß dass sich sicherlich noch der ein oder andere bekannte Überraschungsgast die Ehre geben wird!
DJs: GIAN aka Kurd Maverick, Tapesh, Olli Wallner aka Horny United, Andry Nalin & Gregor Wagner aka Bush II Bush, Kid Chris & Abel Riballo, Hooligan und Stadi
Samstag 11.08.2007 // 23:00 // 7,- // harpune // Familientreffen Spezial: "Cess & Flipside BDAY Edition"
Flipsidenerd Herbert
DJs: Herbert Boese, Cess & Jan Krüger
 
Gleich ein doppelter Geburtstag!
Ein "Geburtstagskind" ist Flipside, der Plattenladen unseres Residents Herbert Boese.
Das zweite Geburtstagskind ist DJ und Booker Cess. Seit 2,5 Jahren verstärkt der Ex-Frankfurter nun die harpune und sorgt an den Plattentellern ebenso wie hinter den Kulissen für den guten Ton. Aus Hamburg wird Jan Krüger anreisen um den Geburtstagskindern an den Plattentellern ein Ständchen zu spielen.
Am Sonntag feiert Loco Dice seinen Geburtstag an der Neusser Kiesgrube. Während der Hells Kitchen wird keine geringer zu Gast sein als Techno-Godfather Richie Hawtin aka Plastikman.
Euer Onkel Oberbilk