OB Dirk Elbers auf Akquisitions-Tour in China – Messe-Eröffnung mit Werner Dornscheidt in Shanghai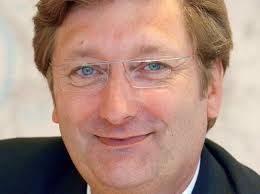 Oberbürgermeister Dirk Elbers (Foto) macht sich am kommenden Montag erneut auf den Weg nach China, um für den Wirtschaftsstandort Düsseldorf zu werben und bestehende Kontakte auszubauen. Im Zentrum der fünftägigen
Dienstreise stehen dabei die Eröffnung der Messe Chinaplas, Besuche der Konzernzentralen der Telekommunikationsriesen Huawei und ZTE sowie der MGB Metro Group Buying HK Ltd, einem Unternehmen
der Düsseldorfer Metro Group.
Messe-Eröffnung
Am Mittwoch wird Elbers gemeinsam mit Messechef Werner M. Dornscheidt auf dem Shanghai New International Expo Center (SNIEC) die Messe Chinaplas eröffnen. Die Messe Düsseldorf ist Veranstalter der erfolgreichsten Messe in Asien für Kunststoffe und Gummi.
Am Mittwochabend fliegt OB Elbers weiter nach Hongkong. Das Reiseziel ist Shenzhen. Dort stehen Besuche der Konzernzentralen von Huawei und ZTE auf dem Programm. Beide Unternehmen gehören zu den größten
Telekommunikationsausstattern der Welt und haben ihre Europa- oder Deutschlandzentralen in Düsseldorf. Zusammen beschäftigen sie in der Landeshauptstadt etwa 800 Mitarbeiter.
Dirk Elbers wird sich in China über die weiteren Entwicklungspläne der Unternehmen informieren und Unterstützungsmöglichkeiten am Standort Düsseldorf besprechen.
In Hongkong steht dann anschließend ein Besuch bei der MGB Metro Group Buying HK Ltd an. Das Metro-Tochterunternehmen steuert den weltweiten Einkauf für die Metro Gruppe in allen Märkten außerhalb der EU. Parallel zur Chinaplas findet in Peking die "Outbound Investment Conference" statt, eine der wichtigsten Investorenkonferenzen
in China. Dort wirbt die Düsseldorfer Wirtschaftsförderung um neue chinesische Investoren. Düsseldorf ist die einzige
deutsche Stadt, die auf dieser Konferenz vertreten ist.
Chinesische Unternehmen angesiedelt
Über 200 chinesische Unternehmen konnten nach Mitteilung der Stadt seit der Gründung des China-Kompetenzzentrums im Jahr 2005  angesiedelt werden, darunter zahlreiche Global Player wie zum Beispiel Huawei und ZTE, die großen Bankhäuser Bank of China und ICBC (Industrial and Commercial Bank of China) sowie zahlreiche aufstrebende mittelständische Unternehmen. Etwa 2.300 Chinesen leben in Düsseldorf.
Seit vierzig Jahren bestehen diplomatische Beziehungen zwischen China und Deutschland. Die chinesische Regierung hat dieses Datum zum Anlass genommen, das Jahr 2012 zum deutsch-chinesischen Kulturjahr zu ernennen. Düsseldorf wird dieses Jahr intensiv nutzen, um den Bekanntheitsgrad der Landeshauptstadt in China auszubauen, die Beziehungen
zu chinesischen Unternehmen zu vertiefen und den kulturellen Austausch zwischen Düsseldorfern und Chinesen in Düsseldorf und China weiterzuentwickeln.
China-Fest am 16. Juni
Nach dem erfolgreichen Auftakt im vergangenen Jahr wird das China-Fest zum zweiten Mal auf dem Marktplatz im Herzen der Altstadt stattfinden. Unter dem Motto "Der Drache tanzt in Düsseldorf" erwartet die Besucher am 16. Juni ein buntes Programm mit Gesang, Tanz, Artistik und einer Reihe interessanter Aktionen. Im Anschluss an das Chinafest
stellen Künstler aus Chongqing vom 16. bis 23. Juni Kulturprojekte aus der Düsseldorfer Partnerstadt vor. Im September bietet das Düsseldorfer Filmmuseum eine Retrospektive über Zhang Yimou, einen der berühmtesten
Regisseure Chinas. Bei den olympischen Sommerspielen in Peking 2008 führte er Regie bei der Eröffnungs- und Schlussfeier.
Die Künstlergruppe Zuhe Niao repräsentiert die jüngste Generation der freien chinesischen Performance-Szene. Die Gruppe aus Shanghai gibt im Oktober im tanzhaus nrw ein Gastspiel, und zum Jahresabschluss im Dezember werden Installationen der Pekinger Künsterin Yin Xiuzhen in der Kunsthalle zu sehen sein.