"Grease" – das Kultmusical im April wieder im Capitol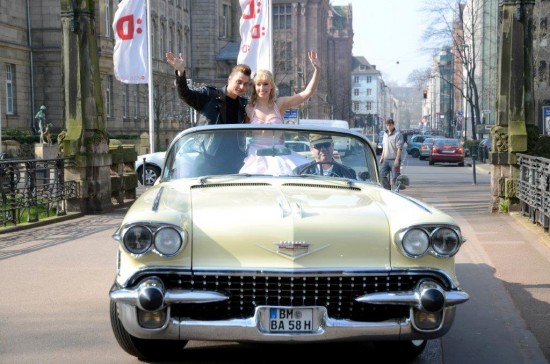 GREASE, das Kultmusical mit einer der schönsten Rock´n´Roll-Lovestorys ist nach dem großen Erfolg der letzten Spielzeit wieder in Düsseldorf! Vom 15. bis zum 27. April 2014 singen und tanzen sich die Pink Ladies und T-Birds über die Bühne des Capitol Theaters.
GREASE ist ein knallbunter Musical-Spaß aus Petticoats und Partys, Pferdeschwänzen und Pferdestärken, Cadillacs und Rebellion und natürlich Liebe zum mitreißenden Sound von unvergessenen Songs. Mit den aufregendsten Hüftschwüngen aller Zeiten, begleitet vom furiosen Rock'n'Roll und DooWop Sound, lässt GREASE die unsterblichen Fifties wieder lebendig werden. Eine Zeit, als Lederjacken noch cool, Eltern so richtig spießig und Autorücksitze die schönsten Orte der Welt waren …
So einzigartig wie das Musical ist auch seine Erfolgsgeschichte: Was aus einer verrückten Idee in einer bierseligen Nacht werden kann, ahnten die Autoren von GREASE Anfang der 70er Jahre sicher nicht.
Ihre Liebesgeschichte zwischen dem coolen Danny und der schüchternen Sandy, die sich nach einem Urlaubsflirt zu Schuljahresbeginn unter neuen Vorzeichen an der Rydell High School wiedertreffen, wurde zu einer der schönsten High-School-Romanzen.
Die Neuinszenierung der Musical Tommy GmbH wird neben Düsseldorf in 15 weiteren Städten Deutschlands gastieren – im Gepäck Hits wie "You're The One That I Want", "Grease Is The Word", "Summer Nights" und "Sandy".