Herzlichen Glückwunsch, lieber Heino!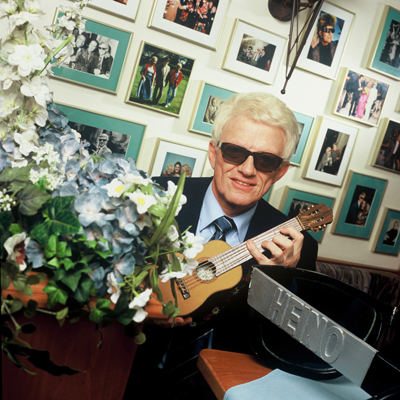 Heino in seinem "Rathauscafé" in Bad Münstereifel – Foto: www.hsbuehler.com
Wer "Heino" bei google eingibt, erhält 4.260.000 Einträge. Sein Bekanntheitsgrad beträgt gemäß zwei Umfragen 97 bzw. 98 Prozent. Der gebürtige Düsseldorfer, der am 13. Dezember 1938 in Oberbilk das Licht der Welt erblickte, ist gewissermaßen ein Mann der Öffentlichkeit, die ihn liebevoll vereinnahmt hat. Seine Fans sowieso, die seine 50 Millionen Platten und CD's kauften und letztlich nun auch die Kritiker, die sich schon vor Jahren den Schaum vom Mund wischten. Heino – Gitarre, deutsche Lieder und seine Schäferhundzucht, das sprengte den Toleranzrahmen der geistig verzottelten Altachtundsechziger. Für sie war Heino der deutschtümelnde Sänger am rechten Rand. Heino sagte dazu in einem interessanten STERN-Interview etwas sehr Richtiges. Wenn "Wir lieben die Stürme" von den Nazis mißbraucht wurde, sei das kein Grund, das aus der Jugendbewegung stammende Lied nicht mehr zu singen. Unser Oberbilker Jong hat mehr als jeder andere für das deutsche Liedgut getan. (Doch trotz Heino haben wir es verlernt zu singen, im Gegensatz zu den Menschen in den Ländern um uns herum. "Wenn die bunten Fahnen wehen", "Hohe Tannen", "Hoch auf dem gelben Wagen" – kennt jemand den Text, singt das noch einer?) Heino, der bei Bäckermeister Theodor Voss in Oberbilk in die Lehre ging (50 Pfennig Lohn im ersten Lehrjahr!), sang schon als Kind. Sein Musiklehrer sprach ihm zwar gesangliche Eignung ab, was Heino jedoch nicht juckte. Mit dem von ihm gegründeten "Sokrahe-Trio" feierte er 1954 Auftrittspremiere – beim "Oberbilker Heimatabend". Elf Jahre später die Entdeckung durch Produzent Ralf Bendix ("Babysitter Boogie"). Deutschlands deutschsingender Superstar ist heute auch begehrter Exportartikel. Heinos Frau Hannelore, deren Herzinfarkt vor zwei Jahren ihn kürzer treten ließ, erzählte mir begeistert von Konzerten vor Zigtausenden in Amerika und Kanada. Dem Express-Redakteur Arno Gehring erzählte Heino für sein Porträt in dem Buch "100 Düsseldorfer Köpfe" von einer kanadischen Punkrockband, die ihn besingt:"Down in the Ratskeller, up in the Schloss, everybody in Deutschland knows who's the boss". Heino, früher Fußballspieler bei "Schwarz-Weiß Düsseldorf" und wegen seiner Beweglichkeit "Gummi" gerufen, verbringt den heutigen Geburtstag in Leipzig, wo er für die morgige José Carreras-Gala (ARD, 20:15 Uhr) probt. Heino tritt hier neben Udo Jürgens, Peter Maffay, Katie Melua, Robin Gibb und vielen weiteren Stars auf. Herzlichen Glückwunsch, lieber Heino!
Heino-Tickets für seine Tournee 2007 (bisher kein Auftritt in Düsseldorf dabei!) gibt's übrigens HIER.