So sehen Sieger aus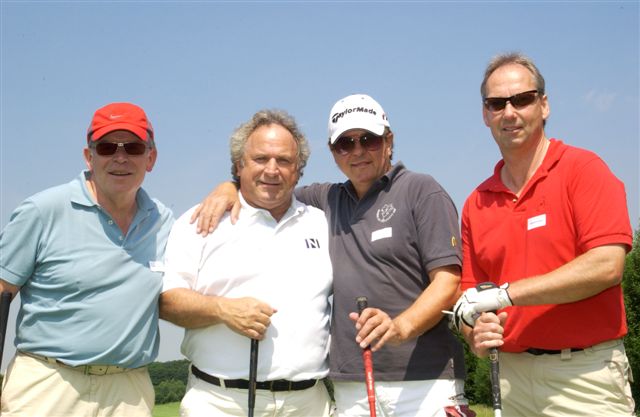 Siegten beim Golfturnier von Düsseldorf IN: Peter Hafener, Karl-Heinz Wehe, Percy Müller und Matthias Nicolaus (von links)
Das große Düsseldorf IN-Golfturnier auf dem Platz Elfrather Mühle – 128 Golfer hatten ein Ziel vor Augen – fünf Tage Marbella. Doch nur vier konnten beim Düsseldorf IN Golf-Special 2008 letztlich das Ticket in Spaniens Süden ergattern: Modemacher Percy Müller, der ehemalige Kamps-Chefbäcker Karl-Heinz Wehe (Geschäftsführer Siebrecht), Matthias Nicolaus (Geschäftsführer Golfclub Hösel) und Peter Hafener (Geschäftsführer DB Management Support GmbH, Gruppe Deutsche Bank). Sie dürfen Ende Oktober airberlin-Flieger besteigen und in Marbella die weißen Bällchen  über edle Plätze prügeln.
Vorjahressiegerin Ulla Imdahl (Medion), die mit ihrem Team von Weiberfastnacht bis Rosenmontag in Marbella war, landete diesmal mit drei Schlägen Rückstand "nur" auf Platz 2 und hatte Mühe, den riesigen Präsentkorb im Kofferraum unterzubringen. Auch Fortunas Ex-Nationalspieler Gerd Zewe ging nicht ohne Preis nach Hause: Mit 1,90 m landete sein Ball am nächsten an der Fahne ("Nearest to the pin").
Mehr als 250 Gäste feierten zum Teil bis nach Mitternacht unter der Mühle, zu Klängen der Band "Still Collins" und einer Pelzmodenschau von Percy Müller. Ein Torwandschießen mit dem Golfschläger brachte rund 1.500 € an Spenden für das Düsseldorfer Kinderheim St. Raphael ein.