"Wheel of Vision": Diesmal dreht es sich drei Monate lang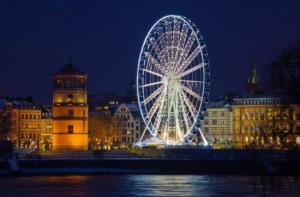 Gut drei Monate wird sich das "Wheel of Vision" auf dem Burgplatz drehen. Am Montag, dem 14. Oktober, beginnt der Aufbau des 55 Meter hohen Riesenrads, fürs Publikum geöffnet wird es bereits am Samstag, dem 19. Oktober um 11.00 Uhr. Das spektakuläre Rad dreht sich drei Monate lang – bis zum 26. Januar.
Oscar Bruch jr. freut sich auf das zweite Gastspiel des Wheel of Vision in seiner Heimatstadt: "Bei der Premiere zwischen Schlossturm und Rathaus hatten wir nur positive Resonanz – von den Besuchern, von Düsseldorfern und Touristen und auch aus Stadtverwaltung und Kommunalpolitik. Viele Menschen haben sich eine Rückkehr des Rads gewünscht, diesem Wunsch kommen wir sehr gerne nach." Nach seiner Premiere in Düsseldorf vor einem Jahr hatte das Wheel of Vision in Budapest und Nürnberg Station gemacht.
Aus den Erfahrungen des letzten Jahres hat Oscar Bruch jr. einige Neuerungen vorgesehen. Vor allem war vielfach angemerkt worden, dass die Platzfläche rund ums Riesenrad zu kahl gewesen sei und keinerlei Zusatzangebote vorgesehen waren. Dies wird sich erstmals am 9. November ändern, wenn zum Wochenende ein kleiner familienfreundlicher Martinimarkt das Wheel of Vision ergänzt. Karussell und Kinderspiele sowie ein Ausschank mit Glühwein, Kaffee und Erfrischungsgetränken schaffen Familienfest-Atmosphäre. Der Ausschank  bleibt danach während der ganzen Laufzeit als zusätzliches Angebot erhalten.
Mit dem Beginn der Düsseldorfer Weihnachtsmärkte öffnet am 21. November das Weihnachtsdorf unter dem Riesenrad mit neun Ständen. Mit Flammkuchen, Pfannkuchen und beispielsweise Reibekuchen mit Lachs wird hier eine Ergänzung zum gastronomischen Angebot der Weihnachtsmärkte geboten. Das Winterdorf wird drei Tage nach Weihnachten wieder schließen.
Die Preise für die Fahrten auf dem Riesenrad sind gegenüber dem ersten Gastspiel unverändert: 7 Euro für die etwa 10-minütige Fahrt, 4 Euro für alle Besucher unter ein Meter vierzig. Darüber hinaus werden individuell kalkulierte Gruppenfahrten, beispielsweise für Firmenfeiern, angeboten. Geburtstagsgondel (mit Kaffee und süßen Stückchen), VIP-Gondel (auch mit Prosecco oder Champagner buchbar) und der beliebte Brunch in the Sky erweitern das Erlebnis Riesenradfahrt um individuelle Komponenten. Spezielle Angebote für die Silvesternacht sind in Vorbereitung.
Das Wheel of Vision dreht sich mit 42 geschlossenen, beheizten Gondeln. Mit Ausnahme der VIP-Gondel (für 4 Personen) finden in jeder Gondel 8 Personen Platz.