Das Capitol im März: Highlights für Herz und Lachmuskeln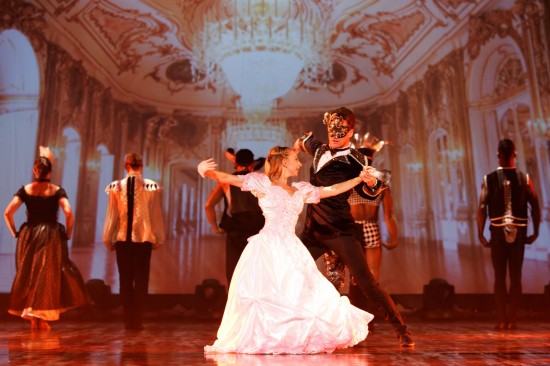 Szene aus "Romeo & Juliet" – Foto: Manfred H. Vogel
 Lachen bis zum Umfallen und Momente fürs Herz: Die Programm-Highlights im Capitol Theater im Monat März bieten all das – mit einer heißen Musical Parodie, einer neuen Ausgabe von Deutschlands bekanntester Comedy-Live-Show und Shakespeares romantischem Klassiker neu interpretiert.
 49½ SHADES! Die Musical Parodie
13.02. – 23.03.2014
Di – Fr 19.30 Uhr, Sa 15.00 & 19.30 Uhr, So 14.00 & 18.30 Uhr
Komödie, Musical oder doch Liebesgeschichte? 49½ SHADES! vereint diese Genres zu einem charmant-ironischen Bühnenerlebnis. Die Geschichte: Drei Buchclub-Ladies sind gefesselt von "Shades of Grey" und tauchen ein in die Welt der naiven Studentin Ana, die Christian Grey trifft, einen erfolgreichen, attraktiven Unternehmer mit unkonventionellen sexuellen Vorlieben. Hin- und hergerissen zwischen ihren Gefühlen, gibt Ana ihre geheimen Sehnsüchte und Hoffnungen preis …
Pikante Doppeldeutigkeiten, eindeutige Ansagen, gefühlvolle Balladen, mitreißender Rock'n'Roll, heiße Tanz-Szenen und ein Ensemble, das ohne Scham jedes Thema anpackt, dabei aber nie das Augenzwinkern vergisst – das ist 49½ SHADES! Die Musical Parodie.
QUATSCH COMEDY CLUB
21. + 22.03.2014
20.00 Uhr
Karneval ist vorbei – doch der Spaß geht weiter! Ende März lädt der QUATSCH COMEDY CLUB zu Stand-Up-Comedy vom Feinsten in den Club des Capitol Theaters. Die Comedians Dittmar Bachmann, Chris Tall, Käthe Lachmann, Hauke Schmidt, David Leukert präsentieren Highlights aus ihrem aktuellen Programm und sorgen mit Mikrofon und Pointe bewaffnet für garantiert gute Laune – trotz Fastenzeit.
ROMEO & JULIET
26.03. – 06.04.2014
Mi 19.00 Uhr, Do + Fr 20.00 Uhr, Sa 15.00 + 20.00 Uhr, So 14.00 + 19.00 Uhr
Das lässt die Herzen tanzbegeisterter Düsseldorfer höher schlagen! Mit ROMEO & JULIET – A CLASSIC ROCK BALLET bringen Rasta Thomas und Adrienne Canterna, die Schöpfer von Rock The Ballet, die größte Liebesgeschichte aller Zeiten als multimediale Tanz-Performance auf die Bühne. Mit Musik von Vivaldi bis Lady Gaga und außergewöhnlichen Videoprojektionen präsentiert sich ROMEO & JULIET als mitreißendes Tanz-Event über die ganz große Liebe, ihre unbändige Sehnsucht, pure Leidenschaft und unendliche Verzweiflung, wenn sie zerstört wird.
Tickets: 01805-2001.