Eckart von Hirschhausen: "Tanzen schützt vor Alzheimer" – Moderator lernt den "West Coast Swing" und demonstriert Ergebnis im TV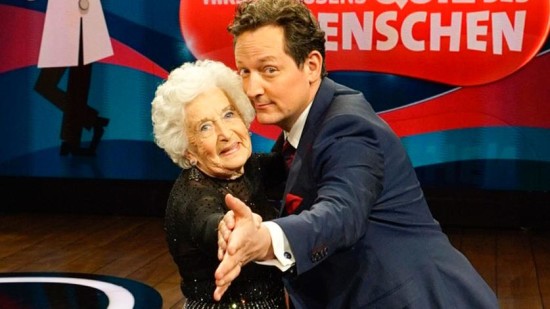 Der Moderator und Mediziner Dr. Eckart von Hirschhausen will per Selbstversuch demonstrieren, wie gesund das Tanzen ist. Von Hirschhausen: "Tanzen schützt vor Alzheimer. Kein Wunder, Tanzen ist gerade für uns Männer mentale Schwerstarbeit. Du musst wissen, wo deine Beine sind, wo die Beine der Dame sind, und wo in der Musik der nächste Takt anfängt. Und dabei noch lächeln! Puh."
Der Moderator demonstriert sein Experiment in "Hirschhausens Quiz des Menschen" (ab 3. September ARD). 
Eckart von Hirschhausen kooperiert mit den Tanzschulen des Allgemeinen Deutschen Tanzlehrerverbandes (ADTV). In seinem Selbstversuch lässt er sich den West Coast Swing beibringen. Berko Meyer, Präsident des Unternehmerverbandes der ADTV-Tanzschulen: "Gesundheit und  Tanzen verhalten sich wie zwei Seiten einer Medaille zueinander. Unter Tanzlehrern und Tänzern ist das Wissen um die positiven Effekte des Tanzens geradezu eine Binsenweisheit." Es schule den Gleichgewichtssinn, stelle bestes Gehirnjogging dar und sei sogar in der Lage Alterungsprozesse zu revidieren."
Dr. Eckart von Hirschhausen besucht in diesem Sommer eine Tanzschule und lernt West Coast Swing, den "International Dance of the Year 2015". Einen Tanz von dem der Moderator selber sagt, dass er leichter aussieht, als er ist. Der Mediziner will seine tänzerischen Fortschritte bei einem großen Tanzevent zusammen mit der WDR Big Band demonstrieren. Mehr über Hirschhausens Experiment auf quizdesmenschen.de.