"Slava's Snowshow" – Phantasie und Poesie auf der Bühne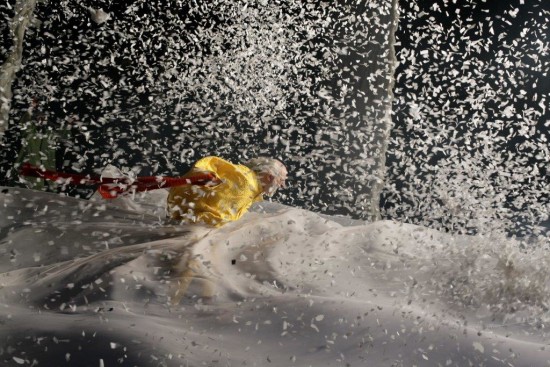 Vom 17. bis 21. Februar gastiert die seit 1993 weltweit erfolgreiche SLAVA'S SNOWSHOW im Düsseldorfer Capitol Theater. Die Show, die mittlerweile mehr als vier Millionen  Zuschauern erlebt haben, wurde mehrfach preisgekrönt, unter anderem mit dem Laurence Olivier – Award 1998 in London, der russischen Auszeichnung "Triumph", dem "Drama Desk Award  in New York 2005 und dem "Golden Nose – Preis", Barcelona.
Das Hollywood-Magazin Variety schrieb über die Show: "Slava's Snowshow ist im Bereich Clownerie das, was der Cirque du Soleil in der Zirkuswelt ist – Slava's Snowshow is gleichsam theatralisch wie simpel, berührend wie auch inspirierend." Der Rezensent des britischen  The Guardian urteilte: "Einer der größten theatralischen Momente, die ich je erlebt habe."  
Über die Entstehung der poetischen und farbenprächtigen Show sagt Slava Polunin, für die London Times "der größte lebende Clown der Welt": "Eines Tages wurde mir bewusst, dass ich eine Show kreieren wollte, die uns zurück zu unseren Kindheitsträumen bringt; eine Show, die die Zuschauer aus dem Gefängnis der Erwachsenenwelt befreit und wieder zu den Kindern werden lässt, die sie einst waren."
In seinem Hauptcharakter, dem "Gelben Clown",  vereinigen sich Freude und Leid, Drama und Lachen, Weisheit und Naivität, Zärtlichkeit und Leidenschaft. Sein Charakter wirkt zugleich kindlich und zerbrechlich, sanftmütig und verwirrt, er bezaubert das Publikum.
Slava Polunin, der Schöpfer der Show, wurde 1950 in dem kleinen Städtchen Novosil  in Zentralrussland geboren, studierte am Institut für Kultur in Leningrad und brachte sich die Kunst der Pantomime autodidaktisch bei. Mit seinem Partner A. Skvorcov wurde er bald eine Ikone der russischen Kulturszene.Die lebende Legende, der  Russische Meisterclown ist Begründer der Academy of Fools (Akademie der Narren, auch bekannt als Slava's Narren ohne Grenzen).
Slava Polunin ist viel mehr als "nur" Schauspieler und Regisseur – er repräsentiert das ganze Spektrum darstellender Künste und kreiert Events und Festivals von epischer Größe, bei denen hunderte Artisten aller Disziplinen zu gemeinsamen Happenings und  Festivitäten zusammen kommen. Im Frühjahr 2013 wurde Slava Polunin zum Direktor des traditionsreichsten und größten Zirkus in Russland ernannt – dem "Bolshoi – Zirkus St. Petersburg.