Cleaner Klassenprimus: BMW 520 d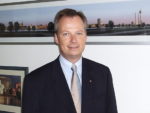 Autohaus-Chef Thomas Timmermanns (Foto) freut sich: Das Fachblatt für Autofans, die auto motor und sport, hat gemeinsam mit Emission Analytics Selbstzünder auf Sauberkeit getestet. Das Ergebnis: Drei der getesteten Fahrzeuge erfüllen den ab 2018 gültigen Grenzwert für den NOx-Ausstoß im Realbetrieb (168 mg/km).
And the winner is: Der BMW 520 d! Die Limousine, in den deutschen Fuhrparks massiv vertreten, kam beim NOx-Ausstoß auf nur 28 mg/km und verdrängt damit den Mercedes E 220 d (41 mg) von Platz eins der saubersten je bei auto motor und sport gemessenen Diesel.
Schmunzelt Thomas Timmermanns: "Wenn das keine klare Kaufempfehlung ist".