Klüh Catering bringt die WM bundesweit in Betriebsrestaurants
Wie holt man das Topthema des Sommers in die Betriebsrestaurants? Auf diese Frage hat die K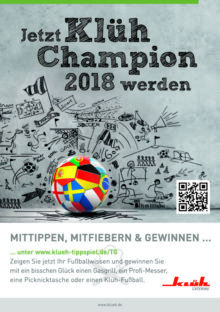 lüh Catering GmbH jetzt eine weltmeisterliche Antwort: Passend zum Turnier in Russland servieren die Klüh-Teams landesspezifische Köstlichkeiten – neu interpretiert – wie z.B. kalte Borschtsch, Rindfleischstreifen Stroganoff, Pelmeni, Piroggen oder Plov (eine Reispfanne mit Truthahn) in 120 Betriebsrestaurants bundesweit.
Begleitet werden die kulinarischen WM-Gerichte von einer unterhaltsamen Tischgast-Aktion. "Jetzt KlühChampion 2018 werden" heißt das Motto für die Gäste der Betriebsrestaurants, verbunden mit dem Aufruf, alle WM-Spiele zu tippen. Den Gewinnern winken attraktive Preise wie ein Gasgrill, Profimesser und Klüh-PicknickTasche sowie Klüh-Fußbälle.
Die plakative Tischgast-Aktion wird über L-Banner, Plakate und Aufsteller kommuniziert, ein begleitender
Tablettaufleger unterhält zusätzlich mit einem launigen Fußballer-Zitate-Quiz. Abgewickelt wird das Tippspielübrigens über eine Microsite, die Klüh eigens für die WM entwickelt hat. Hier kann sich jeder Tischgast einfach anmelden und nach dem Log-in seinen aktuellen Punktestand einsehen.
"Auch für Unternehmen, die mit den eigenen Mitarbeitern gemeinsam die WM-Spiele schauen möchten, haben wir maßgeschneiderte Angebote parat", sagt Thorsten Greth, Geschäftsführer der Klüh Catering GmbH. "Abwechslungsreiche WM-Arrangements von "Party Power of the 70s" über Grillgerichte "Für echte Kerle" bis "Ladies Night" bringen WM-Stimmung und Mannschaftsgeist in unsere Betriebsrestaurants", so Greth weiter.