Zur Premiere der 1. Düsseldorfer Clubnacht am Mittwoch, 16. Mai, laden 13 Clubs getreu dem Motto: "Eine Nacht – ein Eintritt" alle Besucher ein, durch die facettenreichen Clubs der Rheinmetropole zu ziehen und haben sich für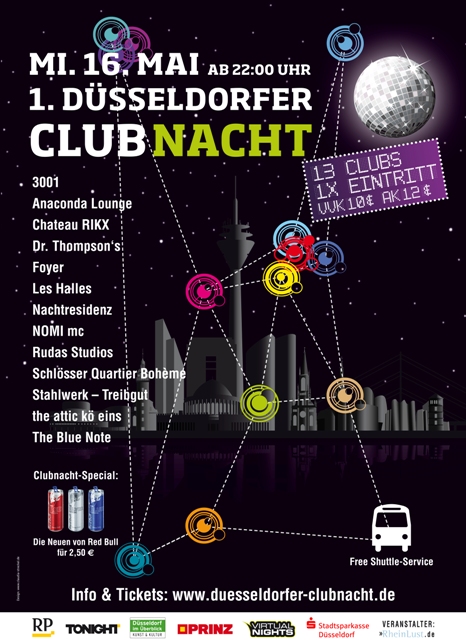 alle Gäste etwas Besonders einfallen lassen. Mit Top-DJs wie Phil Fuldner und Moguai oder mit Live Bands präsentieren die Clubs die Vielfalt der Düsseldorfer Clubszene.
Mit einer Eintrittskarte (10 Euro plus Vorverkaufsgebühr) kann man so in einer Nacht die heißesten Clubs der Landeshauptstadt kennenlernen. Der Vorverkauf ist angelaufen, die Tickets gibt's unter www.duesseldorfer-clubnacht.de. 
Mit dem Kauf der Karte fördern alle Nachtschwärmer einen von den Clubs eingerichteten Charity-Fond, der langfristig gemeinnützige Institutionen in der Stadt unterstützen wird.
Das sind die 13 Clubs: 3001, Anaconda Lounge, Chateau RIKX, Dr. Thompson's, Foyer, Les Halles, Nachtresidenz, NOMI mc, Rudas Studios, Schlösser Quartier Bohème, Stahlwerk und Treibgut, the attic kö eins und The Blue Note.
Die Clubs sind an diesem Abend, von 21.00 bis 5.00 Uhr, im 20-Minuten Takt durch einen kostenlosen Shuttle-Service miteinander verbunden, sodass die Möglichkeit besteht zahlreiche neue Clubs zu erkunden. [Read more]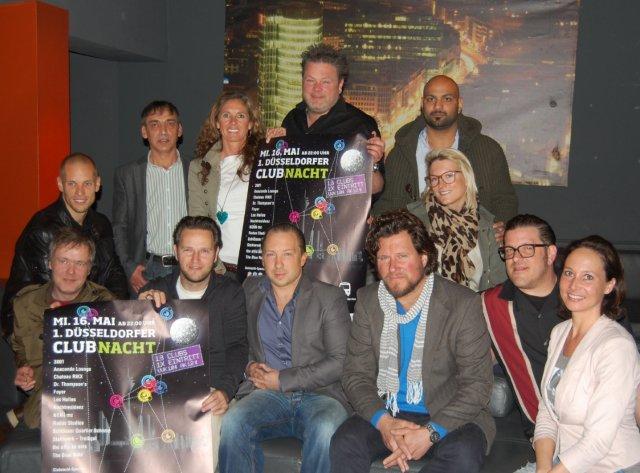 Düsseldorfs Clubber: Vorne, von links nach rechts: Henry Storch [The Blue Note], Christian Erdmann [Schlösser Quartier Bohème], Dennis Bainka [NOMI mc], Michael Quellhorst [Chateau RIKX], Kay Schloßmacher, Cathleen Göpfert [Les Halles], hinten, von links nach rechts: Tom Rameil [Nachtresidenz], Erdogan Davulcu [NOMI mc], Gabriela Picariello [RheinLust], Michael Kuchenbecker [Les Halles], Walid El Sheik [Anaconda Lounge] und Sarah Buck [Stahlwerk]
Am Mittwoch, dem 16. Mai, steigt in Düsseldorf die "1. Düsseldorfer Clubnacht". Gabriela Picariello (Agentur Rheinlust) begeisterte 13 Clubs der Landeshauptstadt für eine gute Idee – in einer Nacht alle Clubs zu präsentieren und diesen Event mit einem wohltätigen Zweck zu verknüpfen.
Ab morgen (31. März) können Interessierte unter www.duesseldorfer-clubnacht.de eine Besichtigungstour durch alle 13 Clubs buchen – für 10 Euro zzgl. Vorverkaufsgebühr. Ein Großteil dieser Summe soll wohltätigen Zwecken zufließen und wird zunächst in einem Charity Fond geparkt. Mit dem 10-Euro-Ticket kann man in der Nacht vom 16. auf den 17. Mai alle 13 Clubs kennenlernen, die untereinander mit einem im 20-Minuten-Takt fahrenden Bus verbunden sind.