1. Düsseldorfer Clubnacht – der Vorverkauf läuft
Zur Premiere der 1. Düsseldorfer Clubnacht am Mittwoch, 16. Mai, laden 13 Clubs getreu dem Motto: "Eine Nacht – ein Eintritt" alle Besucher ein, durch die facettenreichen Clubs der Rheinmetropole zu ziehen und haben sich für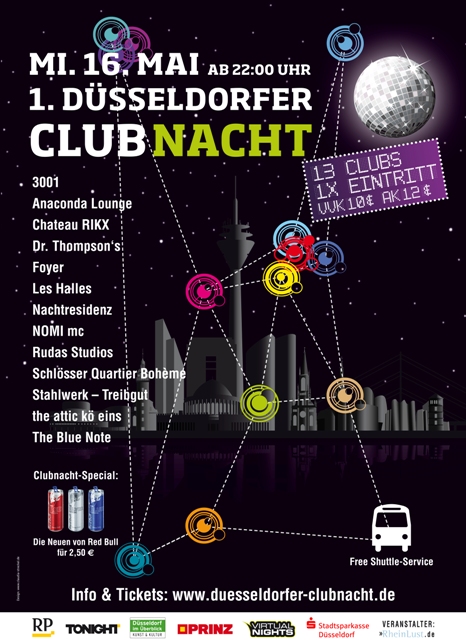 alle Gäste etwas Besonders einfallen lassen. Mit Top-DJs wie Phil Fuldner und Moguai oder mit Live Bands präsentieren die Clubs die Vielfalt der Düsseldorfer Clubszene.
Mit einer Eintrittskarte (10 Euro plus Vorverkaufsgebühr) kann man so in einer Nacht die heißesten Clubs der Landeshauptstadt kennenlernen. Der Vorverkauf ist angelaufen, die Tickets gibt's unter www.duesseldorfer-clubnacht.de. 
Mit dem Kauf der Karte fördern alle Nachtschwärmer einen von den Clubs eingerichteten Charity-Fond, der langfristig gemeinnützige Institutionen in der Stadt unterstützen wird.
Das sind die 13 Clubs: 3001, Anaconda Lounge, Chateau RIKX, Dr. Thompson's, Foyer, Les Halles, Nachtresidenz, NOMI mc, Rudas Studios, Schlösser Quartier Bohème, Stahlwerk und Treibgut, the attic kö eins und The Blue Note.
Die Clubs sind an diesem Abend, von 21.00 bis 5.00 Uhr, im 20-Minuten Takt durch einen kostenlosen Shuttle-Service miteinander verbunden, sodass die Möglichkeit besteht zahlreiche neue Clubs zu erkunden.
Neben den musikalischen Highlights, die die Diskotheken im Rahmen der 1. Düsseldorfer Clubnacht anbieten, erwartet die Besucher auch zahlreiche Aktionen und Attraktionen in den einzelnen Clubs. Mit einem Cocktail-Special lockt die "Anaconda Lounge" alle Besucher der Clubnacht in ihren Club – bis 23.00 Uhr werden alle Cocktails zum Preis von 4,50 EUR angeboten. Zudem sorgen die beiden DJs Sotisfaction und Lokomachine für den richtigen Sound. In der "Nachtresidenz" werden unter allen Gästen 50 Uhren der Marke "ICE-Watch" verlost. Auch in den "Rudas Studios" und im "Les Halles" verlassen die Besucher die Clubs nicht mit leeren Händen, sondern es warten Präsente der Designer Schuhmarke "Peter Kaiser" auf die Gäste der 1. Düsseldorfer Clubnacht. Als Sponsor der Clubnacht bietet Red Bull
seine neue "Special Edition" in den Geschmacksrichtungen Cranberry, Heidelbeere und Limette in allen teilnehmenden Clubs zum Sonderpreis von 2,50 EUR an.