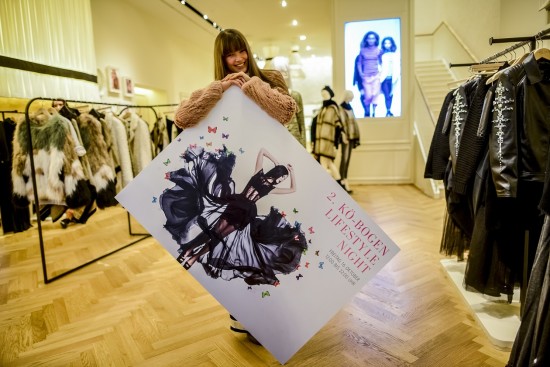 Mode, Musik, Neuheiten und gute Gespräche – zum Geburtstag ist der Kö-Bogen bis 22 Uhr geöffnet. Foto: Andreas Bretz
Der Kö-Bogen wird im Oktober 2015 zwei Jahre alt. Anlässlich dieses Jubiläums findet – wie bereits im letzten Jahr – eine große Shoppingparty statt. Unter dem Motto "A celebration of fashion, style and inspirations" sind am 16. Oktober 2015 sämtliche Geschäfte im Kö-Bogen bis 22.00 Uhr geöffnet. Die mittlerweile zweite lange Lifestyle-Nacht verspricht eine Vielzahl exklusiver Highlights, limitierter Editionen und Überraschungen.
"Das gesamte Konzept spricht für die Innovation des Mode- und Wirtschaftsstandorts Düsseldorf und für den Kö-Bogen als modernes Wahrzeichen der Stadt. Wir freuen uns zum ersten Mal bei der Kö-Bogen Lifestyle Night dabei zu sein, da wir zur Premiere noch kein Mieter im Kö-Bogen waren", freut sich Dagny Kaske, Country Retail Manager Germany von "Twin Set", auf die lange Shoppingparty. [Read more]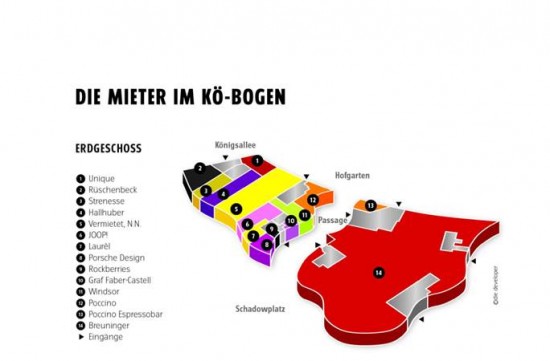 Nach der Teileröffnung des Department-Stores im Haus Hofgarten am 17. Oktober 2013 werden am 28. November mindestens vier weitere Geschäfte im Haus Königsallee eröffnen.
Die Läden liegen alle an der zur Königsallee ausgerichteten Seite, die vom Brand weniger betroffen ist. "Das gesamte Kö-Bogen Team hat einen unglaublichen Job gemacht und in Tag- und Nachtarbeit die Voraussetzungen dafür geschaffen, dass Ende November bereits weitere Eröffnungen erfolgen können," sagt Stefan H. Mühling, Geschäftsführer der zuständigen Projektentwicklungsgesellschaft "die developer". [Read more]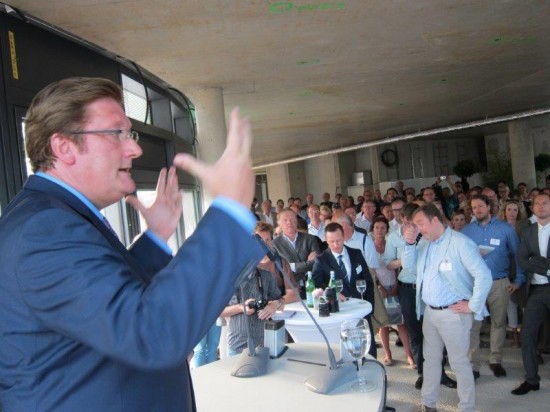 Mit viel Leidenschaft für die neue Mitte Düsseldorfs: OB Dirk Elbers gestern im Kö-Bogen
Es war, nun ja, sehr warm und Marketing-Club Präsident Dirk Krüssenberg winkte verzweifelt nach Wasser tragenden Kellnern, um der wachsenden Dehydrierung der Gäste entgegen zu wirken. Nur Oberbürgermeister Dirk Elbers, als einer der wenigen in korrektem Anzug mit Krawatte, schien die Hitze nichts anzuhaben. Selbst nach seiner temperamentvollen Rede vor den mehr als 200 Marketing-Club Düsseldorf-Mitgliedern, die dank Stefan Mühling (Die Developer) einen ersten Blick in den Kö-Bogen werfen durften, wirkte er noch gut temperiert.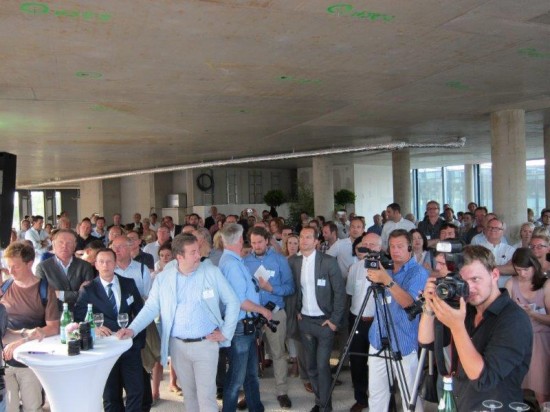 Trotz der Hitze keine "No Shows" – über 200 Mitglieder des Marketing-Clubs nahmen teil
Dabei hatte er sich regelrecht erhitzt für das Thema Kö-Bogen, Düsseldorfs neue schicke Mitte, die architektonische Ikone des Stararchitekten Daniel Libeskind. Begeistert schwärmte er ("Welche Luft, welche Fläche") von den durch den Wegfall des Tausendfüßlers entstandenen Freiflächen und dem Jahrhundert-Bauwerk Kö-Bogen. [Read more]