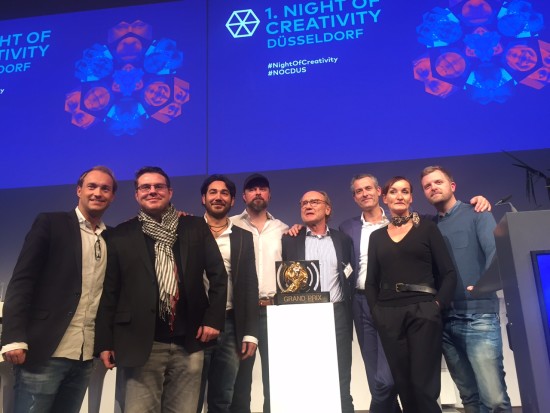 Von links: Christoph Pietsch (GREY), Stephan Moritz (MOKOH Music), Kenny Blumenstein (Ogilvy & Mather), Fabian Kirner (GREY), Dirk Krüssenberg (Marketing Club), Michael Becker (Tonhalle Düsseldorf), Katja Garff (Weischer.Media), Dennis May (DDB)
Echtes Gänsehaut Feeling im Congress Centrum Düsseldorf! Das Who-Is-Who der Düsseldorfer Kreativszene feierte sich selbst und kreative Spitzenleistungen. Und im Rampenlicht: Der Marketing Club Düsseldorf. Der hat es wieder einmal geschafft mit seinem starken Netzwerk eine Veranstaltung der Superlative auf die Beine zu stellen.
Die "1. Night of Creativity Düsseldorf" – ein großer Erfolg. Rund 1000 Gäste strömten gestern ins CCD Süd und erlebten einen spannenden Abend rund um  die Cannes-Löwen. "Mit diesem Format haben wir eine Plattform geschaffen, die nicht nur dem Marketing-Club Düsseldorf gut tut sondern auch der Stadt", urteilt Marketing Club-Präsident Dirk Krüssenberg. [Read more]
Für die internationale Kreativbranche ist eine Prämierung beim "International Festival of Creativity", auch bekannt als "Cannes Lions", der Ritterschlag. An der Côte d'Azur werden einmal im Jahr die weltweit kreativsten Arbeiten mit den begehrten "Löwen"-Trophäen in Gold, Silber und Bronze ausgezeichnet. Ein Festival der Superlative, das schon lange nicht mehr ausschließlich für Werbung, sondern längst auch für Marketing, Technologie und Kommunikation der Zukunft steht. Die Düsseldorfer Agenturteilnehmer haben den Kreativstandort Düsseldorf in diesem Jahr besonders erfolgreich vertreten und zahlreiche der begehrten Trophäen an den Rhein geholt.
Grund genug für den Marketing Club Düsseldorf e.V., die Wirtschaftsförderung Düsseldorf und Agenturen der Landeshauptstadt, die Kreativbranche zusammen zu bringen und gemeinsam mit hochkarätigen Vertretern aus Marketing, Werbung, Kunst und Kultur die "1. Night of Creativity Düsseldorf" zu feiern. [Read more]