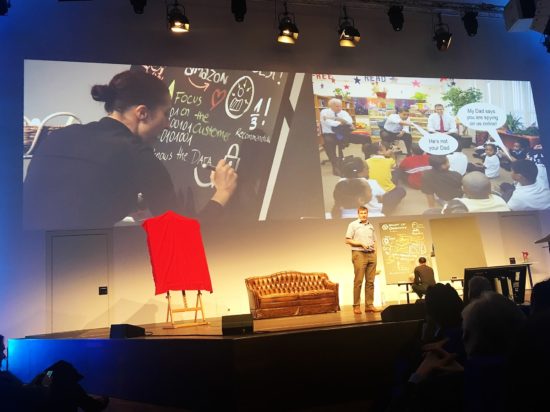 accenture-Digitalchef Jack Ramsay, ein Schotte, riss die Teilnehmer mit seinem Vortrag mit
Die NIGHT OF CREATIVITY des Marketing-Club Düsseldorf – in Zusammenarbeit mit der Agentur Grey, namentlich Christoph Pietsch, war ein umwerfender Erfolg. Club-Präsident Dirk Krüssenberg: "Ein völlig ausverkauftes CCD, wer hätte das gedacht."
Programmhöhepunkte wie der mitreißende Vortrag des accenture-Digitalchefs Jack Ramsay oder das von Lachsalven begleitete Interview mit dem Shooting Star Maler Leon Löwentraut aus Düsseldorf (verkaufte sich brillant) machten den Abend zu einem Höhepunkt im Jahresverlauf des Clubs.
Für alle Werber spannend: die Präsentation der fünf besten Cannes Commercials. Die NIGHT OF CREATIVITY – im nächsten Jahr wieder.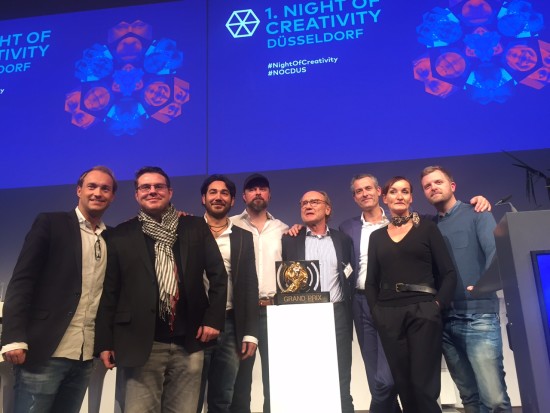 Team der ersten "Night of Creativity" im letzten Jahr – von links: Christoph Pietsch (GREY), Stephan Moritz (MOKOH Music), Kenny Blumenstein (Ogilvy & Mather), Fabian Kirner (GREY), Dirk Krüssenberg (Marketing Club), Michael Becker (Tonhalle Düsseldorf), Katja Garff (Weischer.Media), Dennis May (DDB)
Mit der zweiten "Night-of-Creativity Düsseldorf" am Donnerstag, dem 27. Oktober 2016, werden die Stadt Düsseldorf, der Marketing-Club Düsseldorf sowie mehrere namhafte Unternehmen den Anspruch der Landeshauptstadt auf ihre Vorreiterrolle in Deutschlands Kreativ-Wirtschaft untermauern.
Zu der Veranstaltung im CongressCenterDüsseldorf haben die Organisatoren kreative Vorbilder, Querdenker und Freigeister eingeladen, die mit ihrer Arbeit neue, erfolgreiche Wege in einer immer komplexer werdenden Welt gehen:
So wie der junge Düsseldorfer Künstler Leon Löwentraut, der mit seinen 18 Jahren gerade weltweit das Establishment der Kunstszene durcheinander wirbelt. [Read more]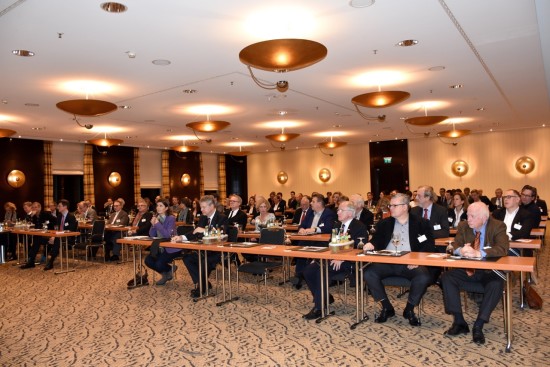 Marketeers im Maritim
Der Abgasskandal hat dem VW-Image hässliche Schrammen zugefügt und den Börsenwert des Unternehmens empfindlich geschrumpft. Wie blickt jetzt die Welt auf Europas größten Automobilproduzenten? Und: Schadet der VW-Fehltritt vielleicht auch dem Absatz anderer deutscher Marken im Ausland? Der Marketing-Club Düsseldorf weiß es – Dr. Niklas Schaffmeister, Partner der internationalen Beratung globeone, hat eine Studie zum Thema exklusiv im Club präsentiert.
Globeone hat in Deutschland sowie in den bedeutenden Absatzmärkten USA und China 1.500 Interviews zur Wahrnehmung deutscher Marken nach dem VW-Skandal geführt. Danach ist das Vertrauen in deutsche Marken, weitgehend ungebrochen. So würden 67 % der Befragten, wenn ein Autokauf anstünde, sich für ein deutsches Produkt entscheiden. Allerdings attestieren nur schlappe 40 % der Befragten derzeit – die Befragungen wurden im Quartal IV 2015 durchgeführt – VW ein positives Image. [Read more]
Der Marketing-Club Düsseldorf – diese Community hat was News rund ums Marketing betrifft, immer die Nase im Wind. Am Mittwoch dieser Woche steht wieder ein äußerst spannendes Thema an: "Big Data", die Flut an Daten, die präzise Ansprachen erlaubt. Und, damit verbunden, die Frage, ob durch die Möglichkeiten der Datennutzung die Kreativität von Agenturen in den Hintergrund gedrängt wird.
Einer der dazu besonders qualifiziert Stellung nehmen kann, ist Christian Rätsch, CEO der Agentur "Saatchi & Saatchi" in Düsseldorf. Rätsch wird mehr als 100 Clubmitgliedern in den Räumen seiner Agentur sagen, wie er das sieht. Die Veranstaltung ist komplett ausgebucht, wir berichten.