Düsseldorf: Marketing-Verband prämiiert Deutsche Telekom mit dem Deutschen Marketing-Preis 2010
Der Deutsche Marketingverband mit Sitz in Düsseldorf hat die Deutsche Telekom mit dem Deutschen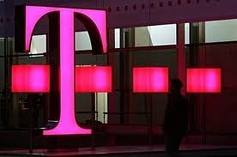 Marketing-Preis 2010 ausgezeichnet. Der Telco-Marktführer erhält die Auszeichnung für den erfolgreichen Ausbau der Marktführerschaft in schwierigem Marktumfeld. Insbesondere die Vereinfachung der Markenarchitektur sowie der Fokus auf innovative Produkte, verbunden mit einer emotionalen Ansprache haben nicht nur die Kunden sondern auch die Jury überzeugt
Dirk Krüssenberg, Präsident des Marketing-Club Düsseldorf, freut sich über die Auszeichnung ganz besonders:
"Gerade eben hatten wir den Markenchef  Hans Christian Schwingen zu Gast. Damit haben wir bei unserer Themenwahl wie so oft ein 'gutes Händchen' bewiesen. Schwingen, der direkt an den Vorstandsvorsitzenden René Obermann berichtet, hat meines Erachtens den Königsweg gefunden, das Silodenken (T-Mobile, T-Systems und T-Home) bei der Telekom zu beenden. Die emotionalisierten "T"-Kampagnen binden vor allem die 250.000 Mitarbeiter ein,
die zum ersten Mal das "proud to be T" bewußt nach außen tragen und somit die Grundlage für die Kundenakzeptanz legen."
Der Preis wird am Donnerstag, dem 4. November 2010, im Rahmen einer Gala in Dortmund am Vorabend des 38. Deutschen Marketing-Tages überreicht. Dort präsentiert die Deutsche Telekom am 5. November auf dem Kongress zum Thema 'Power Shift – Machtwechsel in der Marketingkultur?!" seine Produkte und Leistungen.
In der Jury-Begründung heißt es, dass das Marketing der Deutschen Telekom dem Unternehmen ein unverwechselbares Profil gebe und es im positiven Sinne von den Wettbewerbern differenziere. Dieses moderne Verständnis der eigenen Marke und die konsequente Umsetzung in der Unternehmensstrategie habe die Jury des Deutschen Marketing-Verbandes nachhaltig überzeugt. "Besonders beeindruckt hat uns der ganzheitliche Marken- und Marketingansatz der Deutschen Telekom. Das Marketing ist von Anfang an der zentrale Treiber der neuen Unternehmensstrategie gewesen.", sagt Karl Georg Musiol, Vizepräsident Deutscher Marketing-Verband und Vorsitzender der Jury. "Durch eine an den Bedürfnissen des Kunden ausgerichtete Marketingstrategie haben wir in den vergangenen Jahren die Trendwende hin zu einem emotionalisierten Markenimage geschafft.", sagt Christian P. Illek, Geschäftsführer Marketing Telekom Deutschland. "Wir freuen uns, dass die Jury des Deutschen Marketing-Verbandes das zu würdigen wusste."
Die Deutsche Telekom hat in den vergangenen Jahren die Marktführerschaft in den zunehmend schwierigen Feldern von Mobilfunk- und Breitbandmarkt ausgebaut. Die Marktanteile an Breitband- und DSL-Neukunden wurden weiter stabilisiert, während für das TV-Angebot Entertain bereits nach drei Jahren mehr als eine Million Pakete vermarktet werden konnten. Außerdem erreichte die Deutsche Telekom die erfolgreiche Integration verschiedener Unternehmensteile und Produkte unter dem Markenlogo "T". Der Kunde erhält sämtliche Services, vom Mobilfunk bis zum Festnetz, aus einer Hand und von einem Absender – der Deutschen Telekom.
Auch verknüpft die Deutsche Telekom unter dem Motto "Erleben was verbindet" die Leistungsfähigkeit ihrer Produkte zunehmend mit stark emotionalisierten Ansprachen. Bestes Beispiel dafür sind Kampagnen wie der "Rosenregen" oder auch der aktuelle "Million Voices"-Aufruf. All diese Erfolge verbuchte die Deutsche Telekom trotz starker Kürzungen in Marketing- und Sponsoringbudgets und in dem höchst kompetitiven Umfeld des deutschen Telekommunikationsmarktes..