Mehr! Entertainment – Düsseldorfer zeigen "Der Blaue Engel" am Broadway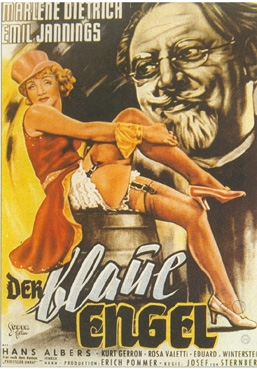 Die Düsseldorfer Entertainment Company "Mehr! Entertainment", die u.a. das Capitol betreibt,  präsentiert derzeit am Broadway in New York Entwicklungsarbeiten für das neue Musical "DER BLAUE ENGEL" in einer sog. Lab Session am New Yorker Broadway.Das Musical, das auf einem Roman von Heinrich Mann und dem deutschen Filmklassiker von 1930 basiert, wurde am Freitag, dem 18. Oktober, in New York City im Rahmen einer sog. Lab Session gelesen und choreographiert auf die Bühne gebracht. Produziert und entwickelt wird DER BLAUE ENGEL von Maik Klokow und Mehr! Entertainment  mit einem internationalen Team in New York.
Die neue Musical-Adaption unter der Regie von BT McNicholl nach einem Drehbuch von McNicholl und Jeffrey Sweet mit einer Choreographie von Joshua Bergasse vereint berühmte Lieder wie Friedrich Hollaenders "Ich bin die fesche Lola" und "Ich bin von Kopf bis Fuß auf Liebe eingestellt" mit Songs moderner Pop- und Rockkünstler.  Die Stars der Lab-Session sind Lesli Margherita (bekannt aus Matilda) als Lola, Jonathan Hadary (Spamalot) als Professor Immanuel Rath und Billy Harrigan Tighe (Pippin) als Schüler Lohmann. Die musikalische Leitung hat Nadia DiGiallonardo (Hair, Pippin) inne.
Berühmt wurde Der Blaue Engel durch den Filmklassiker von Josef von Sternberg aus dem Jahr 1930, mit dem Marlene Dietrich zum international gefeierten Star wurde. Die zugrundeliegende Romanvorlage von Heinrich Mann aus dem Jahr 1905 erzählt die unglückliche Geschichte des gestrengen Gymnasialprofessors Immanuel Rath, dessen Leben aus den Fugen gerät, als er die verführerische sinnliche Lola, den Star des Kabaretts "Blauer Engel", kennenlernt. Die schöne, berechnende Sängerin entfesselt die Leidenschaften der spießigen Kleinbürger, die ihre Masken fallen lassen und um ihre Gunst buhlen – mit fatalen Folgen.
BT McNicholl, der sowohl in den USA als auch in Europa Regie geführt hat, machte insbesondere in Cabaret, Spamalot, The It Girl und bei der Broadway-Version von The Gronholm Method auf sich aufmerksam. Zu den Arbeiten des bekannten Musical-Autors Jeffrey Sweet zählen u. a. "I Sent a Letter to My Love" von Melissa Manchester sowie die Musical-Version des Theaterstücks "Luv" von Murray Schisgal. Joshua Bergasse wurde insbesondere durch seine choreografische Arbeit für die auf NBC ausgestrahlte US-amerikanische Musical-Drama-Fernsehserie "Smash" bekannt.
Mehr! Entertainment gegründet von Maik Klokow mit Firmensitz in Düsseldorf hat bereits eine Vielzahl von Musical-Dauerbrennern in Deutschland produziert, darunter STARLIGHT EXPRESS von Andrew Lloyd Webber, das kürzlich sein 25-jähriges Jubiläum in Bochum feierte. Mehr! Entertainment hat zudem Musicals wie CABARET, SATURDAY NIGHT FEVER, CHICAGO,CATS und  Monty Python´s SPAMALOT präsentiert. Die jüngsten Produktionen des Unternehmens –  MOMIX BOTANICA, 50 SHADES! Die Musical Parodie nach dem Bestseller von "Shades of Grey" und DIRTY DANCING – Das Original live on Tour werden Ende 2013 und  2014 erstmalig auf Tour gehen.